Higher education institutions are continually adapting to changing student demographics, technological advancements, and diverse faculty and research needs; all of this done to grow student enrollment, retain faculty, and maintain/improve academic rankings. Imagine how these factors not only affect the administration, operations, and educational offerings of colleges and universities, but also the facilities management of these institutions. After all, it is the facilities (and capital construction) teams that must apply these concepts to actual physical buildings – some that already exist (and may be aging) and those that must be planned and built.
Over the last several years, it's been upscale dormitories and cool rec centers that have gotten most of the attention of students simply due to their luxuries and amenities. But, what about the part of an academic institution that's more critical to the actual education of students and where many students spend most of their time - either alone or with friends/study groups? If you haven't guessed it yet - we are talking about an institution's library, and in many cases, libraries - sometimes referred to as "campus living rooms."
Can you imagine how difficult it must be to ensure that your institution's library keeps up with all of aforementioned factors? Technological advancements (not only as they apply to learning, but as they relate to the storage and accessibility of volumes of information), changing student demographics (diverse generations, and various study habits and educational needs), and faculty demands (resources for teaching and research). Let's take it a step further. Consider what facilities management leaders and their teams have to do to make sure libraries stay current with design trends and functionality? Sounds overwhelming, doesn't it?
With much time and effort though, academic libraries are adapting - changing dramatically over the last several years. Old book stacks have been replaced with digital storage and/or smaller stacks, standard desks and tables are gone, and study pods and collaboration rooms with glass walls have moved in. We could go on and on. Quite frankly, it's impressive how academic libraries have reinvented themselves.
Being executive search consultants with a specialty in higher education facilities assignments, we have a natural curiosity and interest in the design, construction, and management of academic facilities. Working with numerous public and private institutions, large and small, we are continuously impressed with what they are doing or embarking upon to make their institutions better, and feel their sense of pride about developing and maintaining campuses that are attractive both physically and academically.
So, this week, we'd like to give recognition to some institutions that planned ever so carefully to develop high-functioning (and physically beautiful) libraries that attract prospective students, offer current students a welcoming, resourceful, and functioning environment, and provide faculty the resources they need to continue educating at the highest level possible.
James B. Hunt Library at North Carolina State University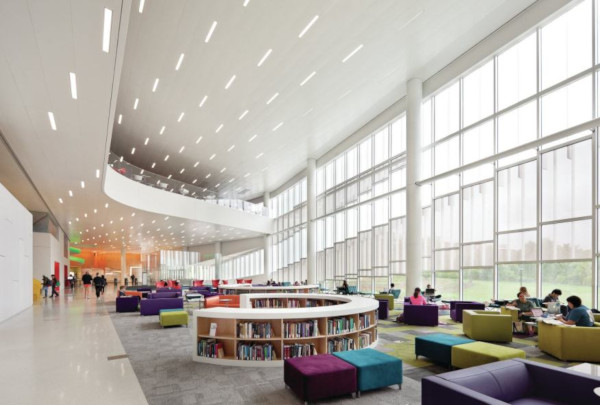 Photo by Michal Moran
With 218,000 square feet of space, James B. Hunt Library has been recognized by Time Magazine as the "Library of the Future" and has received more than 20 other awards. It features a Library Orientation area that has an Immersion Theatre with a 7' x 18' curved videowall and a mezzanine with 10' x 8' microtile stair wall that displays art created by students. It also includes teaching and visualization studios, learning commons, digital media production lab, gaming area, and collaborative learning studios. The library was completed in 2012 with a total cost of $114M.
James K. Moffitt Library at University of California, Berkeley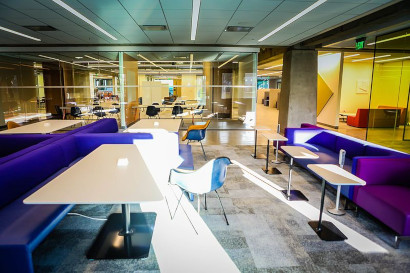 Photo by Jean Ferguson
UC Berkeley took a leap of faith a few years ago when it remodeled its undergraduate Moffitt Library - bringing in couches, a nap pod, and meeting spaces with glass walls that can be written on. It removed 135,000 books to create more spaces for studying and collaboration. The library's 4th and 5th floors provide studios for audio and video recording, and a wellness room. Maximum natural light exposure and outdoor views are provided throughout the building.
Alfred R. Goldstein Library, Ringling College of Art & Design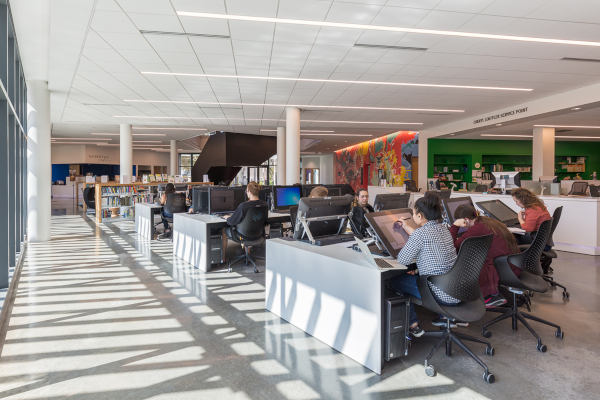 Photo by Ryan Gamma
Art and design education is at the heart Alfred R. Goldstein Library, which is now five times larger than the original building. It features 10 group study areas, a workroom for special projects, and four terraces for gatherings and sketching spaces. Its total cost was $20M.
Allan Price Science Commons and Research Library at University of Oregon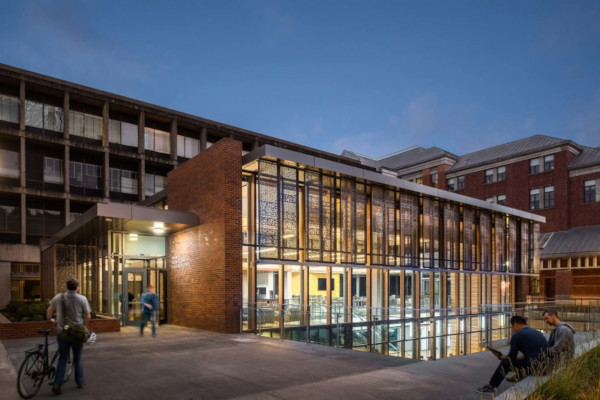 Photo by Christian Columbres
Located in Lorry I. Lokey Science Complex, Allan Price Science Commons & Research Library touts specially designed and equipped discipline-specific rooms for chemistry, human physiology, physics, geology, computer science, and biology studies; and a big-data visualization lab. Its total cost was $19.6M.
James and Anne Duderstadt Center at University of Michigan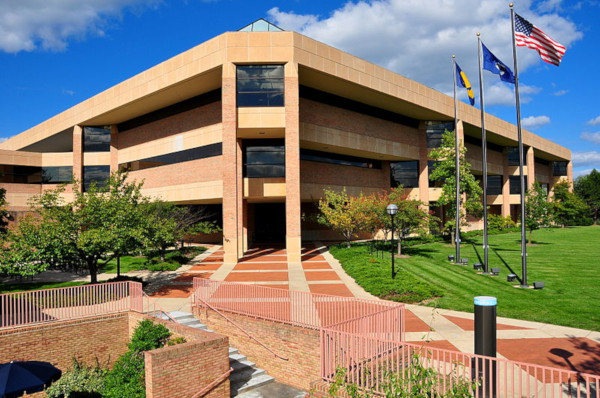 Photo by Andrew Horne
Now dubbed The Dude, Duderstadt Center is no longer recognized as a library, but rather a "hip central hub" that supports student learning and innovation across diverse disciplines. Within this modern building is a self-service media lab, design labs, music and video studios, and a makerspace called Workbench.
Joe & Rika Mansueto Library at University of Chicago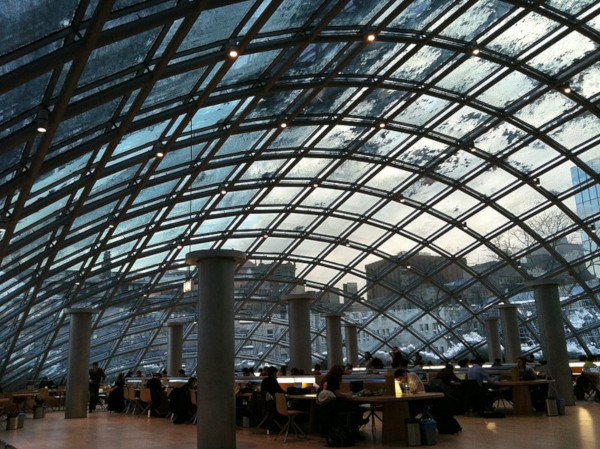 Photo by IceUnshattered
Notably one of the coolest libraries in the country, and named after the founder of the Chicago investment research firm, Morningstar, The Joe and Rika Mansueto Library was designed by the renowned German Architect Helmut Jahn. It can seat up to 180 students under a huge glass dome which blocks 73% of incoming solar heat but, at the same time, allows 50% of visible light to come through. What's even more impressive? It has an advanced book retrieval system that has underground storage for 3.5 million volumes and counting. Books can be requested online and then pulled by robots. The whole process takes only about three minutes.
Olin Library – Washington University, St. Louis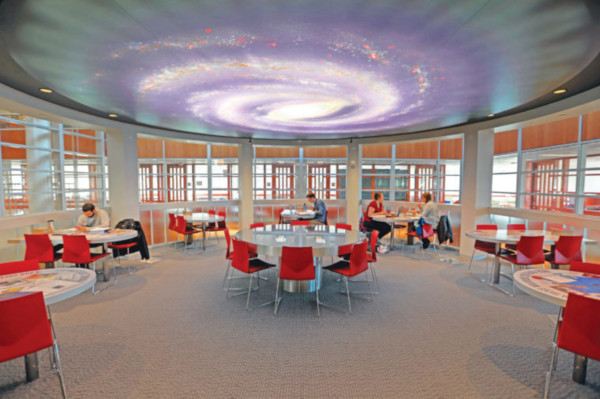 Photo by James Byard
Just last spring, Washington University Libraries completed its Olin Library Transformation project. This major undertaking included a new A/V studio, study and collaboration spaces, instruction and productivity spaces, Newman Exploration Center and Newman Tower of Collections and Exploration, Thomas Gallery and New Exhibition Spaces, improved building access, and a new and expanded café.
Take a look at their websites and see these amazing buildings for yourself – you'll wish you were a college student again! Our commendations to all of the universities noted, as well as others who have taken or are taking a progressive stance to their library systems.