Enduring institutions are sensitive to their environments, and to remain in harmony with the world around them they learn to both embrace and shape societal change. As bed-rocks of the global community, cultural institutions embody and promote this mantra. Due to their influence and position, these institutions are in a unique space, where they are both learning from and shaping society. Their guiding mission is to create environments built for learning, for understanding, and for fostering growth. And the unique construction of these environments does not just address the history that inhabits them, but the physical spaces needed to sustain that history. The role of cultural institutions is to create spaces that function to support the development of minds and ideas in our schools, our cities, and the world at large. As executive search consultants who serve these institutions' capital projects and facilities management teams, we commend the individuals who build and maintain these formative and collaborative spaces.
Last week we discussed the design and advancements of our current higher education institutions and their library spaces. This week we would like to take a deeper look into public libraries that shape our communities and help us understand history in relation to our ever-changing demographics. Our nation's community libraries spend countless hours hosting public events, learning seminars, classes, and literary artists, attracting people from across cities and neighboring suburbs to learn and engage with one another. In order for their physical environment to encapsulate the beauty and unique bonds of our society, they adapt to current trends in technology, innovation, research, and study and apply them to their design; which can take shape as a rebuild, a renovation, additional locations, or, less visibly, technological advances that keep the function up-to-date while maintaining the irreplaceable history of the original structure.
The following public libraries have enhanced their appeal to attract new attendance and participation that transcends local landscapes. If your next trip to these cities doesn't include a stop to the library, maybe this will change your mind.
Indianapolis Public Library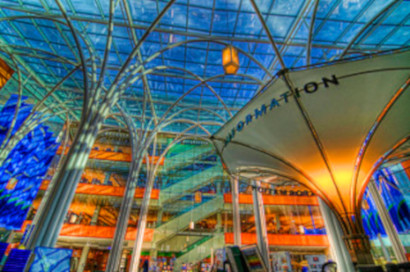 Photo by Serge Melki
Rebuilt from 2001-2007, the central library of the Indianapolis Public Library system is chock-full of curved glass, steel, and Indiana limestone. Designed by architect Evans Woolen, the 6-story building includes an advanced technology workstation, computer training lab, and event hosting space. One of the more heavily circulated libraries in the nation, the Indianapolis Public Library houses rich heritage, culture, and information in exhibits such as the Center for Black Literature & Culture, the Nina Mason Pulliam Indianapolis Special Collections Room, and the Foundation Collection. But wait, there's more! Between 2019 and 2022, renovations, relocations, and reconstructions of some 8 branch locations will be completed, adding to the sophistication of one of the most notable community libraries in the nation.
Seattle Public Library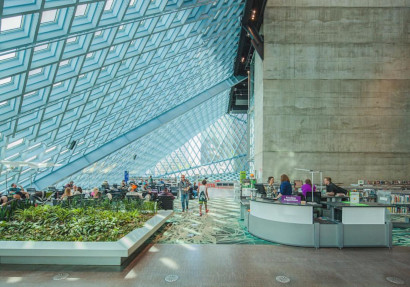 Photo by Peter Alfred Hess
Established in 1890, the Seattle Public Library (SPL) is one of the most advanced public library systems in the nation. As a result of receiving the largest library bond ever issued in the U.S., SPL was entirely remade, touting a new 11-story central library with four-level book spiral, a 'mixing chamber' comprised of computers, information desks, and work stations, and multiple multilingual and ESL areas. Completed in 2004, and made almost entirely from insulated glass and steel, the new 362,987 SF SPL central library was voted by the American Institute of Architects (AIA) as one of America's top 150 favorite structures and received the national AIA Honor Award for Architecture in 2005. What we like most about SPL is that their branch locations are equally as beautiful and reflect the time periods in which they were built. Their new locations incorporate green architecture and go as far as to include green roofs and solar panels.
Boston Public Library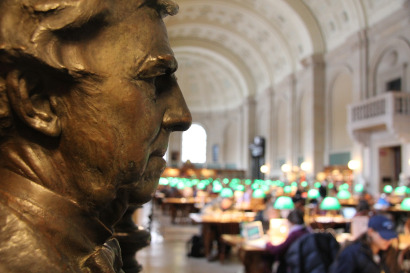 Founded in 1848, the Boston Public Library (BPL) is one of the largest municipal public library systems in the U.S. A member of the Association of Research Libraries, BPL has an abundant collection including rare medieval manuscripts, records of colonial Boston, the personal library of John Adams, and first edition folios by William Shakespeare. Also known as the Library for the Commonwealth, BPL has undergone numerous relocations, ultimately choosing Copley Square for its Central Branch, opening in 1895. Its architecture and design reflect the gems stored inside, where 19th century American architects McKim, Mead & White looped in countless arches and pieces of the sea, creating a 'palace-like' feel like that of the Bibliotheque Sainte-Genevieve in Paris.
It's seems only fitting that BPL's biggest rivalry is our next institution…
New York Public Library

As the third largest public library in the world, the New York Public Library (NYPL) is home to a world-renowned performing arts collection with wide-ranging cultural and historical records of music, art, and photography. Declared a National Historic Landmark in 1965, NYPL's main branch, the Stephen A. Schwarzman Building, is located on Fifth Avenue, adorned with the memorable lion statues, Patience and Fortitude, at its entrance. In 1901, funded by Pittsburgh's own Andrew Carnegie, an additional 39 branches strewn about the Bronx, Manhattan, and Staten Island came into operation. Today, the New York Public Library boasts 92 unique locations, all of which communicate together vis-à-vis library cardholders looking for specific, historical information. Through advanced technology, their online cataloging system allows users to request books from neighboring branches to be delivered to their home branch, and participants couldn't be happier.
Austin Public Library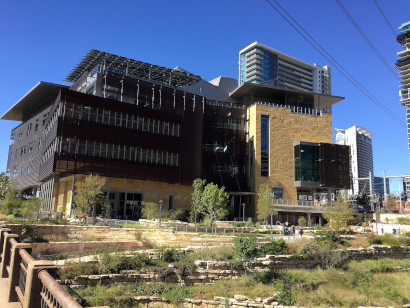 Photo by Mike Russell
Open to the public in October 2017, the new 6-story central library of Austin Public Library, designed by a joint collaboration between architects Lake Flato and Shepley Bulfinch, offers an eclectic, eco-friendly atmosphere. Visitors may park their bike in the bicycle corral and read, or head upstairs to the rooftop garden to enjoy some vitamin D with their coffee from the café. With annual family literacy events, yoga for seniors, and 'music & movement' parties, there's a little bit for everyone in this traditionally Texas landscape. We're in awe of the minute details of the space designed to target sunlight and enhance air-flow without impacting the precious contents located inside.
Library of Congress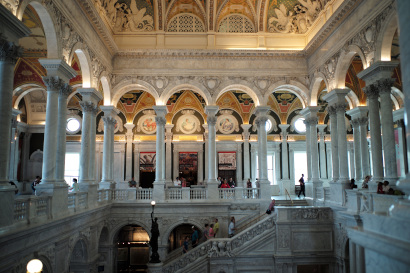 National library of the U.S. and the oldest federal cultural institution in the nation, the Library of Congress rests on Capitol Hill in Washington, D.C. Maintained by the Architect of the Capitol, these 3 buildings (the Thomas Jefferson, John Adams, and James Madison memorial buildings) contain a rich, classical American culture, emanating from structure to contents. Mural paintings surrounding the entrance of the second-floor portico of the Thomas Jefferson Building bring warmth to the writings of the eldest and rarest books housed there. With continuous restoration and renovation, the art and architecture of these buildings remain in harmony with the diverse visitors that stop in to see all of its glory. The Library of Congress tops our list as one of the most extravagant places to visit, host an event, attend a performance, or engage in a literary course.
If you couldn't contain your excitement regarding the beauty of these spaces and would like to know what type of person it takes to operate, maintain, and restore them, check out our most recent case study detailing our search for a Vice President of Capital Planning & Facilities at a prominent non-profit cultural institution in NYC. We are honored to represent institutions with such progressive approaches to growing and sustaining our culture and history, and look forward to seeing what they do next!