The U.S. talent shortage is serious, and there is intense competition for professionals in most all sectors and disciplines. Organizations have found that, to continually and efficiently attract and secure strong talent, recruitment strategies must be multi-pronged, utilize the latest technologies, and most recently, include mobile-optimized career sites.
We don't mean having responsive sites that adjust to the screens of smart phones and mobile devices. We're talking about having career sites that make it easy for prospective employees to track, explore, and apply for opportunities through their smart phones and mobile devices. These options aren't only important to the younger generations of Millennials and Gen Zs either - all generations want them.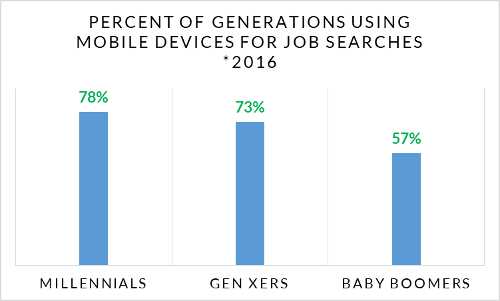 Consider this statistic:
90% of job seekers now use their smart phones or other mobile devices for searching for new opportunities.
Granted, "active" job-seekers represent most of that statistic. But, it also includes "passively-looking" candidates - those who like their jobs and employers and/or may be "under-employed" and routinely check the job boards to see if something pops out at them. They're more or less looking out of curiosity yet could be attracted to new opportunities. So, you want to catch those potential candidates too, right? Well, Monster says that's when a mobile-optimized career site is even more important. You have to make it easy and quick for these professionals to apply to a job, and learn more about it and your organization from their mobile devices. If you don't, you'll lose out. - and that's a lot of job candidates to immediately remove from consideration.
If a 90% stat isn't enough to convince you, here's more:
More than three in five prospective candidates look at a company's career pages from their smart phones or mobile devices.

Each month, there are about one billion job searches being done from a mobile devices in the U.S.

Consider diversity. You've got women, maybe working moms, who find it more convenient to apply for roles on their smart phones than having to sit at their desktops to do so. Then, you've got minorities who are more likely to have smart phones than desktop computers.
For our readers (those involved in our core sectors of construction, facilities, engineering, and real estate development), we looked for information specific to these industries and found that construction and facilities-related roles were among the highest for candidates using mobile devices for job searches.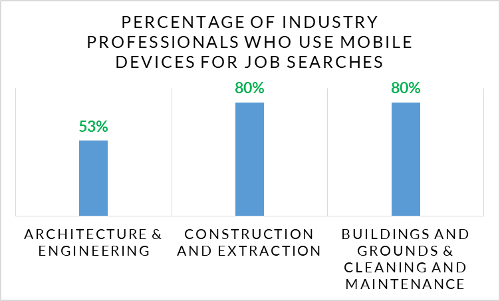 Think about it - in this day and age, there should be no need for an applicant to have to go to a desktop computer to apply for a job. So, if you don't have a career site that's mobile optimized and that provides an easy way for job applicants to apply, what exactly are you waiting for?
Keep in mind that a good career site certainly entails mobile optimization, but there are other strategies that you can implement:
Make it super user-friendly. Provide easy ways (clicks) to find information on your organization, culture, and its employees, and about the specific career opportunity. Be sure to only include relevant information and group it so that a user can easily navigate the site and efficiently apply to positions. This is especially true if you're looking for mid- to senior-level professionals. This group is even more in demand in the U.S. workforce and you absolutely have to attract them better than your competitors by providing easy and quick ways to learn more an opportunities, and your organization's environment and culture.
Ask less questions. The more questions you ask, the less applicants you'll get and that's a fact. This can be good and bad. If you ask a lot of questions, the negative is that you may be missing out on prospective and passively-looking candidates (especially those mid- and senior-level) whose interest is piqued, but they don't want to spend time completing a long application process. On the other hand, asking a lot of questions may generate candidates who are very interested in joining your organization.
Provide options like job alerts, the ability for returning applicants to check their status, and the ability to save a job from a mobile device if the person wants to apply later from his/her desktop.
Use visuals when you can. We are in the age that, when you can use a visual versus a word, do it. Most people are subconsciously more drawn to an image than something they have to read.
If all of this excites you, here are some sites you want to check out for inspiration:
What the next step? Take a look at your organization's career site from your smart phone or mobile device. Ask yourself:
Would it make you want to work there?
Is it easy to navigate? Do you know where to go?
Does it say everything that attracted you to the organization?
Does it portray its environment and culture?
Does it offer options that make it easy to apply?
These are important questions because these elements can stand in the way of your organization attracting strong talent and the right talent. If your site needs work, we are confident that spending the money on optimizing and improving it will surely be worth the time and money.