In exploring why large contractors fail, FMI isolated about 200 different factors that can cause company performance to spiral toward inevitable financial failure. Poor strategic leadership is the common thread among all these factors. External factors (e.g., economic conditions, risk environment, etc.) are not primary causes but can accelerate the chain reaction of company failure. In essence, when contractors fail, they do it to themselves - it doesn't happen to them.
FMI's five root causes of contractor failure identified in the original study continue to be responsible for contractor failures today. Yet all of the causes can be controlled and mitigated.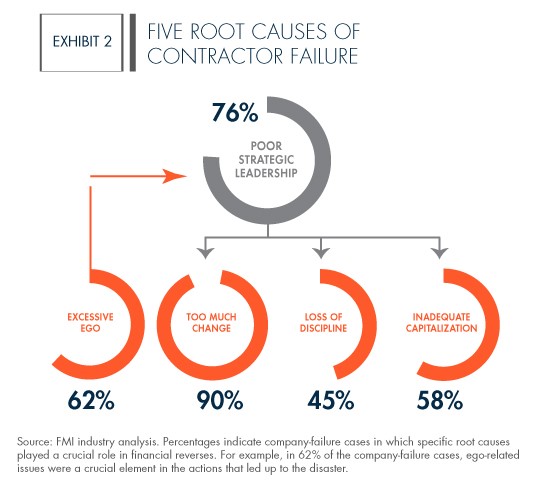 Factor #1: Poor Strategic Leadership
This is by far the biggest reason for failure in today's business environment, where strong leadership can serve as a cornerstone for success in even the most difficult market conditions. For example, many companies get into financial difficulty when ownership changes hands from one generation to the next. To ensure successful ownership transfer and management succession, owners need to prove that the company can grow and succeed without them. The only way to do this is by having the right successors in place who are capable and willing to lead.
At that point, the question becomes, can the next generation carry the business forward? This is frequently where firms get into trouble - regardless of whether they are family-owned or not. Companies that do not define a clear vision, purpose, and fact-based strategy often find themselves reactionary without setting true direction. Under poor strategic leadership, people begin making bad decisions (i.e., poor project selection, hiring the wrong employees, putting the wrong systems in place and so forth), and before the company's leadership is aware, the firm can find itself on the path to failure.
Factor #2: Excessive Ego
Another root cause of poor decision-making is the leader who exhibits an excessive ego. Extremely confident and often unwilling to listen to the opinions and suggestions of others, this person can literally take down the entire company. In our original study, we referred to this personality as the "Mind of the Contractor." In order to be a successful contractor, you must have self-confidence and a high tolerance for risk. Contractors also must possess a high degree of optimism, or they would have a difficult time winning any bids and securing work. The key is to avoid carrying that optimism and risk tolerance to the extreme - a scenario that can lead to bad business decisions and ultimately company failure.
Factor #3: Too Much Change
The research and one-on-one interviews we conducted indicated that in 90% of the company-failure cases, change-related issues were a crucial element in the actions that led up to the disaster. When too many things happen too quickly, it's easy to get overwhelmed and thrown off course. Any company can absorb some level of change, but there's a limit to what most organizations can handle at any given time. To avoid driving too much change in the organization and managing it more effectively, we suggest companies make a list of everything that's new, including customers, projects, geographical targets, superintendents, project managers, systems, etc., to fully understand the speed of change the organization is currently going through. The more changes they can name, the higher the risk of failure. Therefore, it is critical to manage the rate of change on an ongoing basis.
Factor #4: Loss of Discipline
Successful construction firms tend to be extremely well-disciplined in all areas of their business. Most companies that experienced failure grew from small, regional operations into national powerhouses (e.g., J.A. Jones, Guy F. Atkinson). Along the way, these firms almost universally lost their internal business discipline, became overall bureaucratic and started doing things outside of their core competencies. On the other hand, there are a few world-class contractors in the U.S. that operate with an incredible amount of discipline. They do the same thing the same way—every day and everywhere that they operate. This discipline is built into the company's culture, transpires throughout the organization, and can last for generations.
Factor #5: Inadequate Capitalization
Sometimes people will ask us, "How much money should I keep in my construction company?" And we always answer this question by asking, "How much money can you lose on a single construction job?" And when you think about this, the answer is, "all you've got." Construction projects have upside limits on the level of profit that you can earn, but the amount of money you can lose is unlimited. Overcoming this failure factor requires an adequate capital base that allows you to withstand inevitable problems and live to fight another day.
Why Large Contractors Fail - A Fresh Perspective from FMI Corporation on Vimeo.
Guest post by Sabine Huynen Hoover of FMI, the leading management consulting, investment banking, and people development firm dedicated exclusively to the engineering and construction industry. FMI professionals serve all sectors of the industry and combine more than 60-plus years of industry context and leading insights to achieve transformational outcomes for their clients.