Many of our blog readers, who are primarily A/E/C (Architecture, Engineering, & Construction) and Facilities Management professionals, probably receive frequent calls from various executive recruiters. During these initial calls, recruiters will ask basic questions such as your current title and responsibilities, and provide you with a brief description of their client. If you are interested in hearing more about the prospective opportunity, the recruiter will typically schedule a phone interview with you to talk in greater detail.
At Helbling & Associates, executive search consultants specializing in the A/E/C, Facilities, and Real Estate sectors, we have these same conversations with numerous professionals every day. In our firm, the subsequent phone interviews we have with candidates are referred to as 'app calls'. During these app calls, we cover a lot of ground so that we can evaluate candidates' knowledge, experiences, and career motivations. This blog covers these phone interviews and discusses what you, as a candidate, can expect from having an app call with one of our executive search consultants.
What is the objective of an app call?
The main purpose of an app call is for our search consultant to determine if you may be a potential fit with our client and the role by gaining a solid understanding of your technical skills, experiences, and background as well as your career aspirations and motivations. Equally as important, the consultant provides you with more in-depth information about our client and the role so you can consider the opportunity objectively.
How long does an app call take?
A typical app call takes about 45 minutes to one hour. For it to be most effective, we recommend you schedule it for a convenient time when you can carefully consider the questions and reflect upon your responses. While the call may take time out of your busy workday, think of it as another step in advancing your career for you may learn things about your experiences and motivations that you hadn't realized before.
What questions are asked of me as a candidate?
The general information you can expect to provide during an app call is illustrated below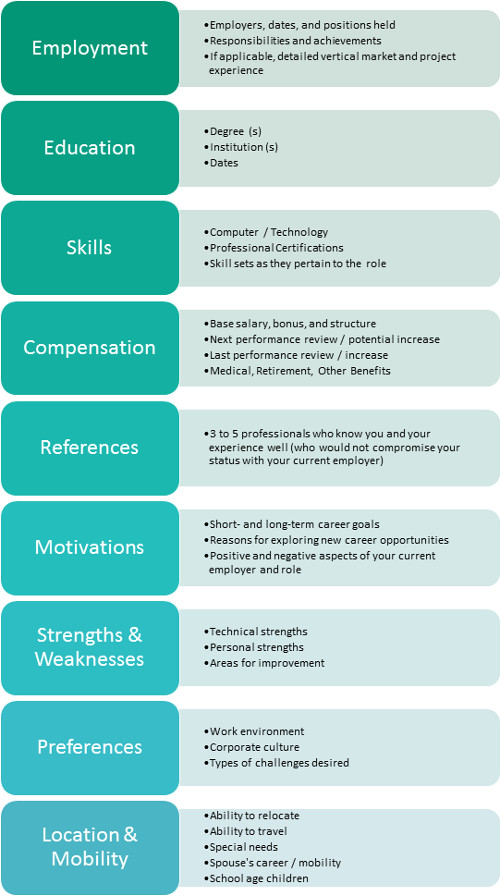 What should I ask the search consultant?
An app call is not just for the benefit of our recruiter. It also provides you an opportunity to learn more about our client organization and its role. Below are our recommendations of questions to cover.

What happens after an app call?
There can be two outcomes of an app call: (1) You and our search consultant will realize that you may not be a good fit for our client and/or the role. In this case, your information will be stored in our proprietary database for future consideration. (2) Our search consultant will confirm that you are a potential match. If you are interested in further pursuing the opportunity, the information gathered during the app call will be shared with our client with the goal of scheduling a personal interview. Our consultant will ask you to submit a resume if you have not previously done so. As you progress through the hiring process with our client, our consultant will remain in close contact with you, providing consistent updates on your status as a candidate. If you are selected by our client for the role, we continue to maintain contact with you and our client for several months to ensure that your transition is going smoothly.