University of California (UC) Merced is on its way to achieving the objectives of its 2020 Project Master Plan, which centers around accommodating 10,000 students. Just two weeks ago, The University of California Board of Regents unanimously approved UC Merced's plans to expand its campus's physical capacity at the price tag of $1.3B. While some may balk at the cost, UC Merced's strategy and approach is actually quite impressive and one that can serve as a model for other public universities.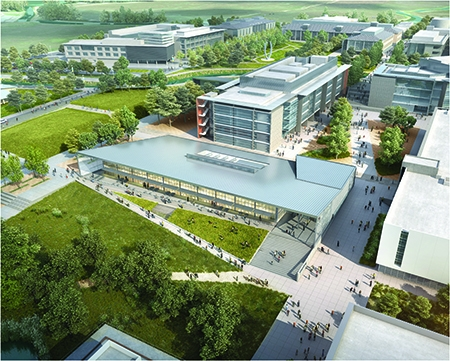 Photo courtesy of UC Merced
What is the impetus of UC Merced's 2020 Project Master Plan and what are its primary objectives?
Opening its doors in just 2005, UC Merced is the newest campus in the UC system, and is the first doctoral research university in the U.S. of the 21st century. Its application rate is double the average of the entire UC system. Knowing that it had to expand its campus, UC Merced's leadership developed its 2020 Project Master Plan, which is a fast-tracked capital program designed to:
Implement an aggressive construction schedule that allows the completion of new space within the next four years.
Be cost-effective, leveraging existing investments in campus infrastructure and providing best overall life cycle of facilities.
Utilize private sector innovation and expertise in design, construction, and management.
Mitigate risks related to design, construction, operations, and maintenance.
To achieve the above, UC Merced is the first campus in UC's system to utilize a single private development team for a multi-building program over multiple years. It named Plenary Properties Merced (PPM) its development partner on June 15th. PPM is a consortium of design, construction, engineering, maintenance, operations, and financial partners with a lead developer, equity provider, and financial arranger Plenary Group. Plenary Group is an international infrastructure developer and investor in P3s across North America.
UC Merced and PPM have an "availability-payment concession" agreement, which is a type of public-private partnership. PPM will design and build all of the facilities as a single, fast-track project. It will also ensure major building systems continue to operate over its 39-year contract. Furthermore, PPM will assume responsibility for raising all private financing required as part of the P3.
According to UC Merced's website, PPM received the award due its cost-effective and environmentally-sensitive design that blends with the current campus while offering flexibility in the future. The campus has already been recognized by the U.S. Green Building Council as one of the greenest campuses in the U.S., and is striving to reach Triple Net Zero by 2020.
UC Merced's 2020 Project Master Plan at a Glance:
Approximately 1.2M gross square feet expansion (790,000 assignment square feet) of research, teaching, residential and student-support facilities that will be built adjacent to the current campus.
Cost: $1.338B.
Groundbreaking: October 2016.
Contractor: Webcor Construction
Lead Campus Planner: Skidmore, Owings & Merrill
Lead operations and management firm: Johnson Controls
Facilities will include:
Academic and Research Space
1700 student residential beds
1,500 parking spaces
NCAA-II competition pool
Conference Center
Wellness Center
Competition Recreation Field
Early Childhood Education Center Expansion
Dining Facility
Student Life Facilities
Beyond the benefits that UC Merced, its faculty, and students will glean from such an expansion, the plan is projected to create more than 12,000 construction jobs, and generate $2.4B in state economic benefit.
It will be interesting to see how UC Merced's 2020 Plan plays out and if its approach is successful in both the short and long term. If it is, it will certainly provide a model for other UC campuses in designing, constructing, operating, and maintaining their facilities. Beyond the UC system, it will provide an example for other public university systems of how they can leverage P3s in various ways to successfully address their capital program objectives.
Update 12/3/18: Dive Publication has named UC Merced University of the Year.