The higher education sector is recognized for its sustainability initiatives and achievements. Although colleges and universities may make it look easy to the general population, those of us who are involved in higher education sector realize that these institutions are constantly balancing their priorities of providing facilities that are attractive and healthy for occupants, and mitigating their energy costs and environmental impacts. For institutions that are research-intensive, this challenge can be even more complex considering that research laboratories can consume as much as two-thirds of their total campus energy. Furthermore, lab space must be flexible, modern, and collaborative environments. While addressing all of these issues can be difficult, it is possible as demonstrated by institutions that have impressive and sustainable research facilities.
Research intensive = Energy intensive
Architecture firms that specialize in lab design understand that higher education institutions have strong competition among their peers in attracting and retaining the best researchers and scientists, and that there is a continual effort to balance these concerns with facilities construction and maintenance costs. They also know how to apply advanced technologies and construction practices, such as green building, recycled construction materials, high-efficiency fume hoods, low-energy lighting, and energy recovery ventilation systems to design and build sustainable and efficient research facilities.
To fully comprehend this feat, one needs to understand that laboratory buildings must use 100% outside air ventilation with no re-circulation of air. They demand specialized equipment and ventilated systems, and can use four to five times more energy than a similarly sized classroom or office. The air is cooled, filtered, heated, dehumidified, distributed, and then exhausted. On average, labs exhaust their entire air volume 6 to 12 times/hour, 24 hours/day, regardless of occupancy or air quality. Needless to say, labs can be extremely challenging when it comes to sustainability, energy efficiency, and achieving LEED certification.
Let's take a look at some university research laboratories that have been recognized for their sustainability achievements.
Columbia University - Gary C. Comer Geochemistry Building
(photo credit: Payette Architects)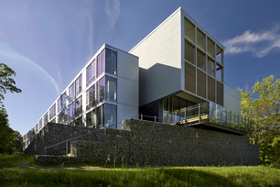 Square footage: 70,000

Design: Payette Architects
Construction: Torcon
Cost: $32M
Completed: 2007
LEED: Silver
As Columbia's first LEED-certified building at the Lamont-Doherty Earth Observatory, this facility has a two-story wing of 15-foot high laboratories, and a three-story wing of offices. By separating lab and office functions, the building has a reduced footprint of 19% and smaller building envelope by 13% while providing highly responsive energy infrastructure. Due to housing five mass spectrometer labs that require extreme control of building vibration and the use of hazardous substances, a highly customized program was designed for significant energy savings.
Harvard University - FAS Sherman Fairchild Laboratory
(photo credit: Payette Architects)

Square footage: 100,000
Design: Payette Associates
Construction: Turner Construction
Cost: $32M
Completed: 2012
LEED: Platinum
This lab is a renovation of an existing structure for the Stem Cell and Regenerative Biology department, which includes lab bench space, tissue culture labs, microscopy rooms, zebra fish labs, interior lab support spaces, conference rooms, and office space. Sustainability features include: daylight to 97% of space; 91% of construction materials were recycled; internal heat shift chiller captures heat from high load spaces to reheat other areas; enthalpy wheel for sensible and latent heat recovery from exhaust air; occupancy sensors on fume hoods; heat recovery from zebra fish exhaust air; natural ventilation in non-lab spaces; water conservation measures; and 15% reduction in light power density.
Harvard is currently developing its latest Science & Engineering Complex in Allston, MA. The facility will be 500,000 total SF, have 70,000 SF of green space, and 40% of it will be lab space. Expected completion is 2020.
Princeton University - Frick Chemistry Lab
(photo credit: Payette Architects)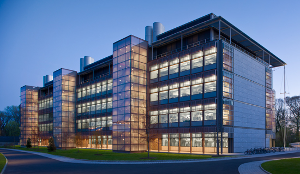 Square footage: 265,000
Design: Hopkins Architects (London) with Payette Associates
Construction: Turner Construction
Cost: $278M
Completed: 2010
LEED: Gold
One of the most environmentally sustainable areas on Princeton's campus, Frick Chemistry Lab has a high-performance exterior glazing with sunscreens to optimize daylighting; an array of photovoltaic panels that generate power while providing shade; integrated mechanical systems that enable transfer of cooled and heated air from offices through the atrium and into the laboratories; high-efficiency fume hoods with automatic sash closers; graywater system; and occupancy and daylight sensors.
Rice University - Bioscience Research Collaborative
(photo credit: Cardno Haynes Whaley)
Square footage: 477,000
Design: Skidmore, Owings & Merrill
Construction: Linbeck Group
Completed: 2010 with current addition underway
LEED: Gold
BRC is a 10-story structure that is joined by a bridge with the Texas Medical Center. It houses a 287-seat auditorium; 250-seat exhibition hall; and research facilities with mass spectrophotometers, transmission electron microscopes, and other equipment. Sustainability features include a green roof; energy-efficient heating and cooling; 75% of construction waste was recycled; and condensation from cooling systems is collected and reused.
University of California - Irvine Gross Hall
(photo credit: Aircuity)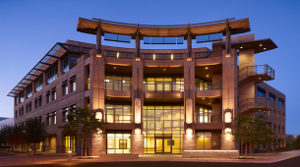 Square footage: 100,000

Design: DES Architects + Engineers
Cost: $80M
Completed: 2008
LEED: Platinum
Irvine Gross Hall is a four-story plus basement cast-in-place concrete research lab with steel frame mechanical penthouse that includes a vivarium, environmental rooms, high technology library, and lecture hall. The building has motion sensors that lower the rate of ventilation to 2-4 air changes/hour when there are no occupants. It has achieved 50% in energy savings due to high-efficiency lighting with daylight controls and has reduced exhaust stack discharge airspeeds when conditions are safe.
University of Florida - Biomedical Sciences Building
(photo credit: Alan Cheuvront)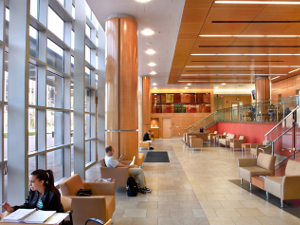 Square footage: 165,000
Design: Hunton Brady Architects
Construction: Whiting Turner
Cost: $90M
Completed: 2010
LEED: Gold
Project is an eight-story facility that has an open internal structure with wall-less classrooms and large windows. The state's largest biomedical enterprise, it includes a vivarium for plant and animal research. It was built on a Brownfield Redevelopment area, diverted nearly 80% of construction demolition waste, and uses 100% reclaimed water for irrigation.
University of Maryland - School of Medicine Health Science Facility III
(photo credit: Design Collective)
Square footage: 428,970
Design: HOK and Design Collective Inc.
Construction Manager: Barton Malow
Cost: $305.4M
Expected completion: 2018
LEED: tbd
When completed, this will be the largest building on UMB's campus. At 10 stories, the building has 2 towers with an adjoining central atrium. It will function as the central research facility for the University's medicine, dentistry, and pharmacy school, and will include high-end imaging resources and a five-story dry lab.
Now that sustainability, green building, and energy efficiency have become mainstream concepts, they will always be core factors in laboratory design and operation. Because research-intensive universities take their carbon footprints and sustainability efforts very seriously, they will continue to apply the latest and most advanced technologies into designing and building laboratories that are cutting edge in the realm of higher education. We commend these institutions on their never-ending commitment to the environment and our planet.