This week, we are showcasing several women who have made a significant impact on the industry and many people within it. Today, we sat down with Lindsay Corotis, the fifth of five interviews in our Women in Construction Week series, to discuss her motivations, core values, decision-making, and advice for women in the industry. We thank Lindsay for taking the time to speak with us, and we hope you enjoy the insight she has to share.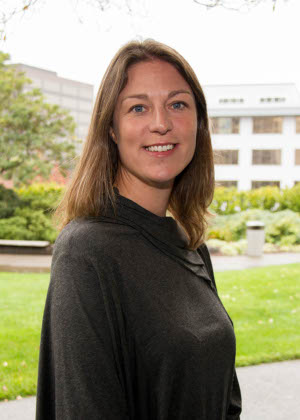 Active in the construction industry for 20 years, Lindsay has managed numerous types of projects ranging from small tenant improvement projects, to large laboratory spaces, to ground up high-rises and corporate campus buildings in the San Francisco Bay Area. As Vice President and Account Manager at Skanska, she has effectively overseen large construction teams and brought projects to completion on time and within budget. As an honest and open communicator, Lindsay maintains existing client relationships and forms lasting new ones.
1. What are the most important decisions you make as a leader of your organization?
The most important resources in our organization are our people. My key decisions are all centered on developing our talent and creating an active and supportive space for them to constantly improve. The construction industry is based on teams that come together for projects. The strength of the team is based upon the group of individuals acting together at their peak performance so that we can deliver successfully. By providing quick and constructive feedback, the teams can adapt and develop to be high performing at a pace that meets our industry's needs!
2. How do you ensure your organization and its activities are aligned with your "core values"?
I am very lucky to be at a company that has very clear and articulated values and talks about them in a sense of living our values. Transparency and actively caring for life beyond just the work hours are critical to me in my personal life and align with those of our company. We look for partners that align with our own values and are never willing to sacrifice them for a business decision.

3. How do you support gender equality in the workplace?
It is more about equality across all people. By recognizing our differences and creating the space for everyone to be heard. Through active listening and the encouragement for all team members to speak up, we generate ideas and solutions that can solve almost any challenge. I work to create the space where everyone has a voice. Sometimes, we get stuck thinking one way is the only way. By being susceptible to hearing new ideas we can encourage ingenuity and advances in our industry.
4. What motivates you as a leader
?
There is a moment of pride at the end of a project when the client or end users are occupying their new space. The sense of team comaraderie and success in creating a space that people love is amazing. Being part of the team that helped make it happen and that sense of pride in a team that grew throughout the process is truly inspiring to me.
5. Can you name a person who has had a tremendous impact on you as a leader / mentor?
My first boss was a smart, motivated, short tempered young leader in the company. He pushed me to problem solve on my own and figure out ways to be successful. He believed in direct and swift feedback for everyone. I never felt singled out or coddled because of my sex, and was held to the same high expectations of everyone else on the jobsite. This taught me confidence very early in my career to problem solve and present solutions. I had to speak up to be heard, and was challenged to quickly get out of my comfort zone.
6. What advice would you give to women trying to break into the Facilities Management / Construction Management / Engineering / Architecture fields?
Do it!! There are so many opportunities and options to be part of the building industry. Don't feel intimidated by one aspect of the industry because there are so many ways you can get involved. Don't be afraid to be curious and ask questions. Folks love to share their knowledge with curious individuals. Speak up and push yourself outside of your comfort zone daily!