Health Facilities Management
, the official publication of
ASHE
(the American Society for Health Care Engineering) recently released findings of its biennial salary survey. The more than 1,600 professionals who responded shared their thoughts on career development, monetary incentives, and compensation.
Salaries continue to increase and so does responsibility
Within the past two years, facilities managers experienced an overall 9% rise in salary with the national average now reported as $113,937. Jack Gosselin, chair of ASHE's career development committee, correlates the increase in compensation to the increasing importance of the role of a facilities manager. As quoted within the ASHE magazine feature article, "We have positioned ourselves as very valuable assets. The onstage work we do these days has a lot to do with salaries becoming more commensurate with contributions." Survey respondents echoed this as those who believed their salary was higher than peers cited "wearing lots of hats" and increased responsibility among the reasons for the perceived difference.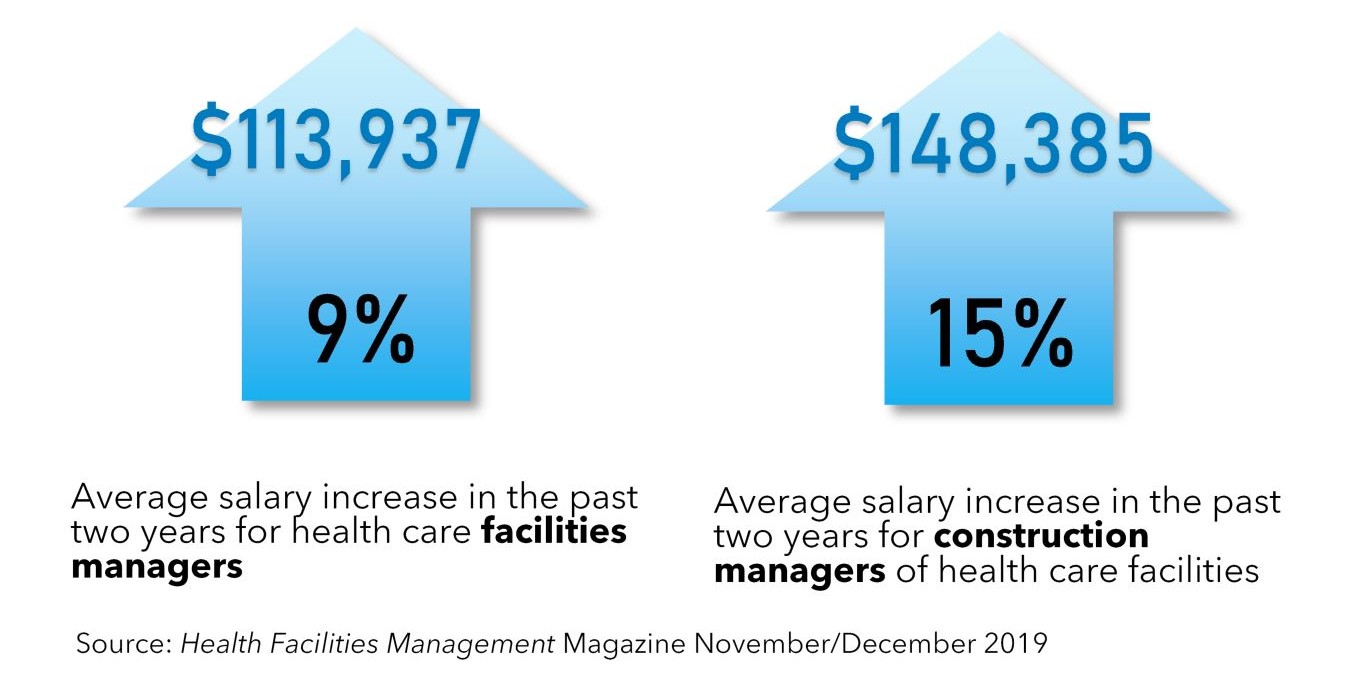 Construction managers saw an even bigger bump in compensation over the past two years—15%—translating to a $148,385 average salary. The competition among hospitals is one reason for the increase. With patients having more choices than ever before, they are driving the need for attractive, highly functional, and contemporary facilities. Secondly, there is a reported labor shortage as health care construction competes with other industries for the same talent.
Career development is top of mind
An overwhelming majority (94%) of survey respondents are thinking about taking action to develop their careers. Of these professionals, nearly three-quarters think about it "often" or "always." While the intensity of career development actions varied from attending a conference to relocating for a better opportunity, nearly two-thirds of the most widely reported actions pertained to gaining or providing knowledge specific to their field.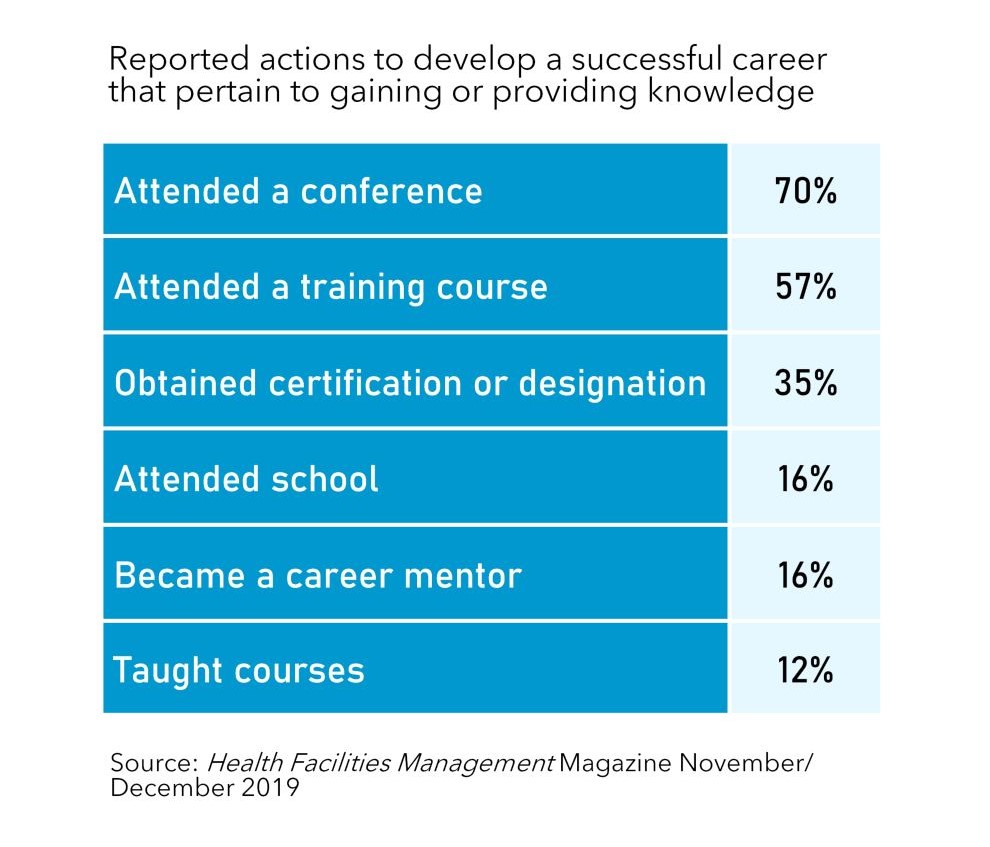 The 35% who obtained a certification or designation may be rewarded. In this survey, Certified Health Care Facility Managers (CHFM) reported an average salary of $125,900, which is 21% higher than those without the certificate.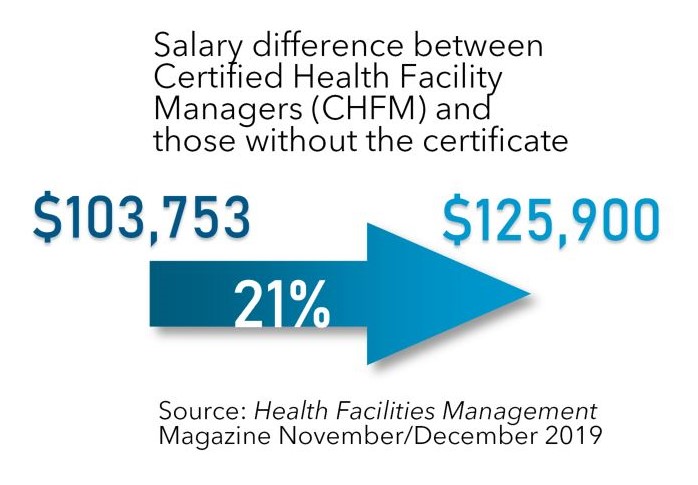 However, some Helbling search consultants cannot substantiate this statistic. "There are times where a position may require a certification or license, but I have not seen clients compensate professionals for certifications directly or explicitly," said
Marc Datz
, Regional Manager – Midwest.
Managing Consultant
Wendy Zang
explained that in lieu of additional compensation, many of the organizations the firm works with will pay for employees to get relevant certifications.
Incentive compensation is tied to staff satisfaction and retention
Managers and executives in many fields are part of a "variable income incentive program"; however, the concept may be newer within the facilities management field. Of those who received a financial bonus, 86% said it was tied to performance. What performance improvement initiatives and outcomes are the most rewarded? Combined, employee satisfaction rates and employee retention rates top the list of most incentivized actions tied to performance with 90% of respondents citing them.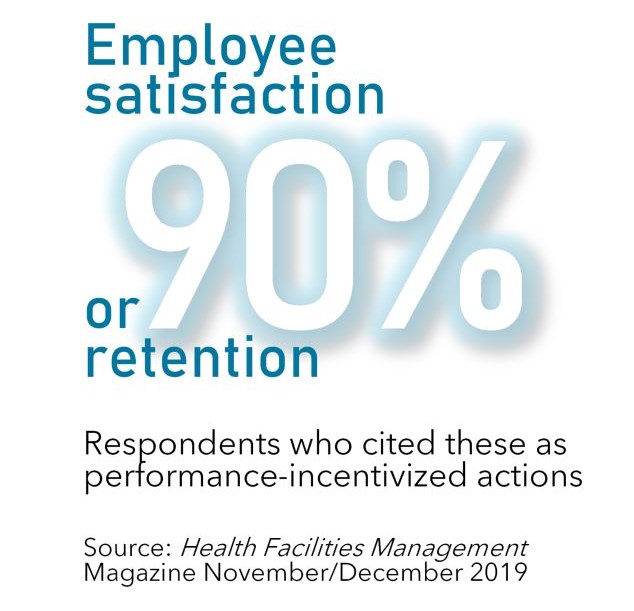 A close second is meeting budgetary goals. Rounding out the top of the list are patient satisfaction scores/HCAHPS and quality-of-care measures.
Jim Lord
, Helbing Executive Director – Northeast, has seen health care clients offer a performance bonus equal to 15% of first-year salary. While that sounds impressive, he added a word of caution, "Criteria can vary from discretionary to formulaic and be based on either institutional or personal performance." It is important to have clearly defined, measurable goals in writing so that both employer and employee agree whether objectives have been met.
To gain more insight, read
Health Facilities Management's full survey results
.