It's not unusual for our search consultants to be asked, on occasion, what it's like to be an executive search consultant. After all, no one goes to college to become one; usually it's a career that someone just falls into after first going into another profession. In saying that, executive search consulting (with a respectable and reputable firm) is a highly rewarding career – you're supporting organizations in finding, attracting, and securing strong talent. You're also helping professionals advance their careers.
While this may all sound great, most people don't realize what being a search consultant really entails. That was the purpose of our recent blog, "What Does It Take to be a Successful Recruiter", which provided a real, firsthand perspective of what we do. Needless to say, it's not easy for us to find recruiters to join our team. For one, the job is hard, it takes time and patience to learn the ropes, we are particular about who we hire, and our interview process can be long - and for some, too long. In our own defense, we like to be sure of who we are hiring – if they have what it takes to be successful in our profession, if they're going to fit in with our culture and team, and if they're going to serve our clients well.
Well, last year around this time, we pretty much hit the jackpot with two hires – Aubrey Allen and Rob Dible. You may have worked with Aubrey and Rob over the past year because they've conducted several search assignments, supporting our senior consultants. This past month, they both celebrated their one-year anniversaries with us. Knowing that we aren't the easiest firm to work for, we wanted to give them the spotlight in this blog so that you can learn more about them on another level. We hope you enjoy this interview with them.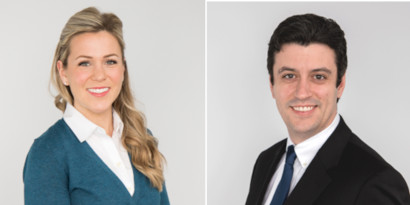 What did you do before joining Helbling? And, what attracted you about becoming a search consultant?
Aubrey: "I managed hotel operations for two of the biggest names in beds, Marriott and Intercontinental Hotels Group (IHG). I've always been enthusiastic about helping people find things that make them happy. In my last hotel role, I held responsibility for a lot of the hiring, allowing me to dig deeper into strengths and weaknesses, drive, and potential. I found that I enjoyed getting to know people and how different traits were indicators for success. Recruiting is an extension of that."
Rob: "I worked in political campaign management for ten years prior to joining Helbling. I was traveling most of the time, moving to different parts of the country every year, and the road eventually started to wear on me. I decided to move home to Pittsburgh and saw the job posting for an Executive Search Consultant. I was initially attracted to Helbling by the fact that the ad sought people with substantial professional experience but no recruiting experience. I'm a big believer in the transferability of skills between industries and the opportunity to join a team that recognizes that success is created with skills and not just lines on a resume was welcome."
What are elements of the role that you didn't expect?
Aubrey: "Not everyone wants a new job. Despite the 'no thank yous', it is encouraging to know that there are people that truly love the companies they work for, and that those companies know how to value and retain their employees."
Rob: "I didn't anticipate how important following a dedicated, regimented process would be. It can be tempting – especially for a newcomer – to want to jump right into an assignment and start making calls as soon as a contract is signed. It's critical to stay dedicated to the process and put the appropriate time and energy into every step, especially the initial research at the outset of the assignment, before moving on to the next."
What are some of your professional and personal attributes that allow you to be successful as a search consultant?
Aubrey: "Self-awareness is huge. While I've always had an interest in construction, I'm not formally trained in Architecture or Engineering. Knowing when and where to ask what questions has helped me become more comfortable in an area I largely knew nothing about prior to joining Helbling. I knew that, in order to be successful in our specialized industries, I'd have to open myself up to learning and experiencing many new things. Humility, curiosity, and a love of challenge have also played vitally into my first year."
Rob: "My professional experience is centered on management, leadership, and relationship building. It's made for a natural transition to recruiting. At the end of the day, having curiosity about people and what they do, and the ability to get to know them is what makes someone successful as a recruiter."
You have both had many successful assignments. Which ones stand out in your mind?
Aubrey: "I've worked on a few successful searches where the candidates' necessary skill set made the research a fun challenge. One such search was for a small, prestigious K-12 girl's school in New York City. The school was growing and needed someone who understood building management and operations, as well as how to plan and design for the future, all while managing the expectations of the Board and parents. Working with a colleague, we identified a candidate who fit the bill, with an abundance of technical knowledge, hands on skills, and the ability to relate to all constituents. I'm proud to look back on this search and hope that our work helps further the school's goals of educating and preparing young women."
Rob: "One of my first successful assignments was placing the new Director of Facilities at La Salle College High School in Philadelphia. We had a candidate we had tried to call a few times throughout the search, and eventually she responded to an email right before the interview process was set to start. We conducted an immediate phone interview and presented her to the client. She ended up being the one we secured for the role; the decision was unanimous that she was clearly the right candidate. The experience taught me both that you can never be sure when the right candidate will come along and also that it's important to be tenacious and keep reaching out to people until we make contact."
What do you think is the most important thing you learned this year?
Aubrey: "I've always considered myself independent and able to work autonomously. This new role has redefined those traits for me. I've had to learn to more freely accept help and also to be even more self-regulating. Some aspects of our work are very collaborative and others are inherently individualized; learning how to balance this has helped me grow personally and as a professional recruiter."
Rob: "The most important lesson learned is to never be satisfied with the results of a search until the selected candidate walks in the door for their first day. Even if I've identified 15 candidates who appear to be exactly what our client is looking for, things can always change: Candidates accept other opportunities or change their mind about a relocation and/or clients decide they have the ability to hire two people instead of one. It's critical to maintain a high level of activity and keep pushing no matter how well the search is positioned."
What's your favorite part about what you do?
Aubrey: "The bigger picture of what we do is really what drives me. In any search, our work helps an organization function more efficiently, which can have many trickle-down effects. A placement helps an individual advance themselves personally and professionally. Finally, with each interaction with a candidate, I too grow and continue to learn. It's all positive."
Rob: "I most enjoy getting to know new clients and new industries. We work with fascinating clients doing noteworthy, prestigious work; it's really an honor to be a small part of driving their success."
Is there something you look

forward to doing as you begin your second year with Helbling?
Aubrey: "Our work is unique and the services we provide are invaluable. I'm excited to play a more active role in business development and have the opportunity to develop relationships with organizations by demonstrating how we can support them in securing the talent they need."
Rob: "I'm really looking forward to expanding my involvement in business development activities. I wholly enjoy the experience of getting to know clients, visiting with them and learning about their facilities and their needs, and working with them to identify candidates that will address those needs."
On behalf of our entire team at Helbling, we congratulate Aubrey and Rob on a great first year! They are truly valuable additions to our team – they are astute learners and we wouldn't be able to handle all of our search activity without them.
Congratulations Aubrey and Rob, and Happy Anniversary!