The good news is that 2020 promises overall increased spending in the U.S. construction industry, which will be the tenth consecutive year of growth. The so-so news is that the growth is expected to be moderate and concentrated in very specific market sectors and geographies. The not-so-good news is that by mid-2021, this country could see a brief recession, which will slow or halt the construction growth rate. What are the factors that determine the growth rate? Economists make performance predictions based on the country's consumer spending, world trade agreements, and the U.S. employment rate of construction and related industries.
Consumer Spending
The U.S. Department of Labor reported in mid-December that the annual core inflation rate is 2.3%. (This reflects the 12-month period ending November 2019.) While this is the highest it has been since 2007-2008, it remains close to the Federal Reserve's recommended rate of 2% to maintain steady economic growth. One of the factors impacting the rise in inflation is the increasing cost of medical care. It has become an issue for many Americans and affects consumer spending. Being an election year does not necessarily have a negative impact on our economy though presidential candidates' policies surrounding healthcare may end up playing a role.
Student debt is another consideration that negatively affects consumer spending. The $1.6 trillion tab for student loans has exceeded credit card and auto debt.
World Trade Agreements
World trade agreements, specifically the trade war with China, are another key predictor of economic performance. With tariffs below their pre-trade war levels, the overall gross domestic product (GDP) has suffered. As the two largest economies in the world, other foreign economies are affected and remain stagnant. According to the
2020 Annual Economic Outlook
published by Wells Fargo Securities' Economics Group, with the U.S. economy expected to slow soon and foreign economic growth showing signs of stalling, it looks like the U.S. dollar will depreciate this year.
U.S. Employment Rate
Thirdly, the U.S. Department of Labor, Bureau of Labor Statistics projected that employment of construction and extraction occupations will grow by 10% from 2018 to 2028, faster than the average for all occupations, which is 5%. This represents a gain of about 704,000 new construction-related jobs.
Vertical Markets Expected to Grow
Construction spending is being concentrated in fewer geographic markets. Many contractors are looking into regional or national expansion. Half of all related spending is expected to occur in 20 metropolitan markets with the next five years according to Jay Bowman, a principal with FMI, who recently released a construction outlook alongside FMI senior economist, Brian Strawberry. The larger populations in these markets are driving the need for updated infrastructure.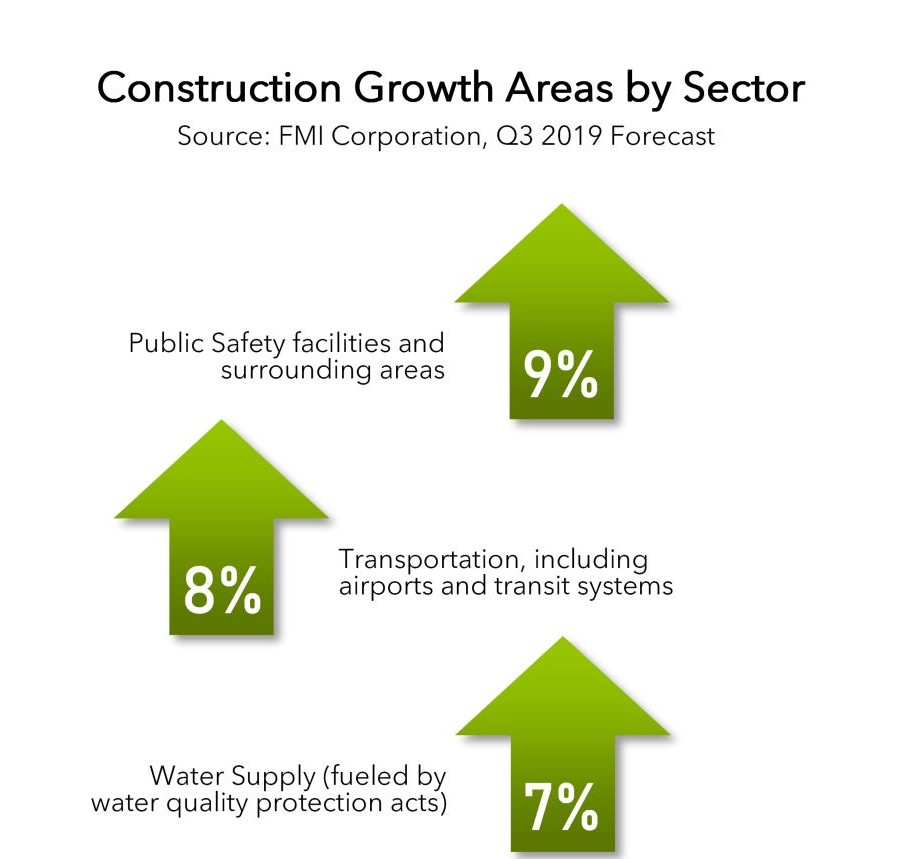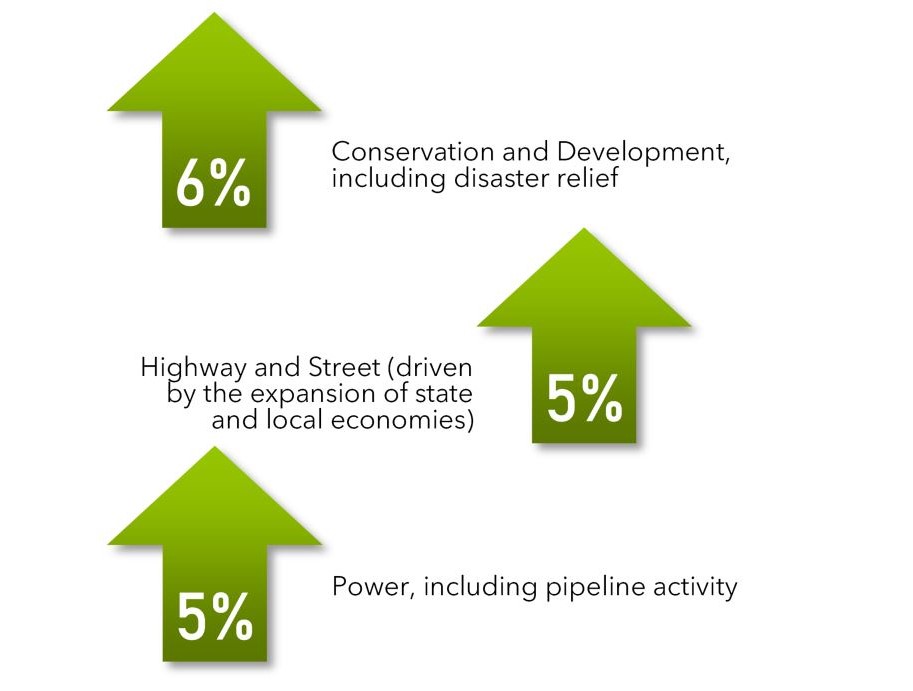 Communication and Healthcare are two additional sectors poised for growth at 4% each. Other sectors are at or below the baseline of a 2.5% increase, which is predicted for total U.S. construction spending. This compares to a 4% increase in the past five years. Regardless of the overall increase in spending, according to
Dodge Data & Analytics' 2020 Construction Outlook
, overall starts in this country will drop by 4% this year. The firm believes that there will be an orderly, broad-based pullback in starts as the economy slows.
The Rise of Megaprojects
Going forward, construction will become even more focused on large-scale developments. Megaprojects are expected to increase by 600% over the next decade. These projects, named because they reflect over $1 billion in construction costs, represented only 3% of total U.S. starts in 2013. By 2018, they represented 33%. As Bowman explained during a recent industry webinar, "A single megaproject is even more complex than 10 projects valued at $100 million." He cited the greater level of oversight and project management required and emphasized that there will be an increasing need to attract and retain strong talent.
The Helbling team understands the challenges and opportunities construction firms face. If you would like more of our insight on recruitment and talent management, please
contact one of our Managing Directors
.