Princeton University has retained Helbling to conduct an executive search to secure an Associate Vice President (AVP), Capital Projects.

Position Summary
For more details about this opportunity,
please view the position profile
by clicking the image below.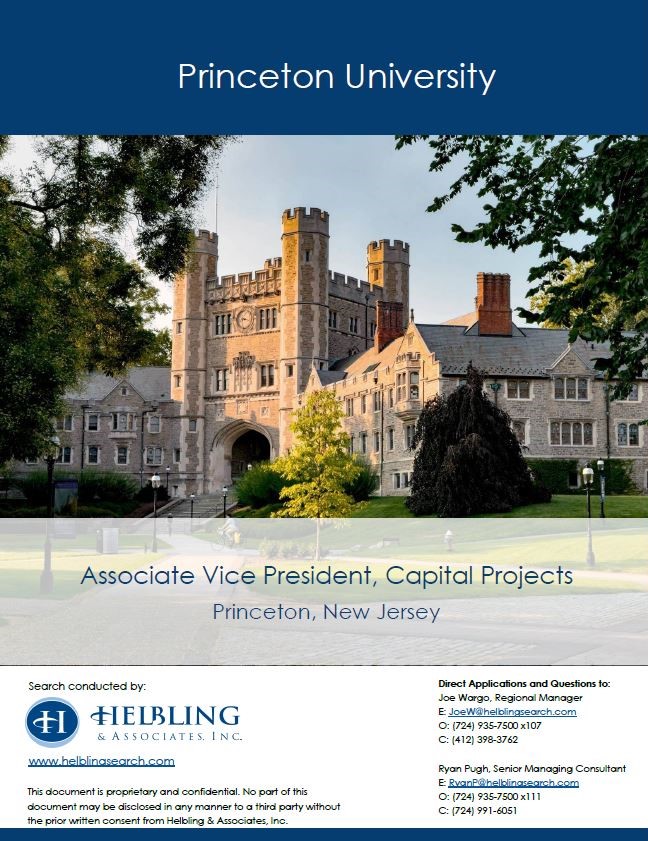 Reporting to the Vice President for Facilities, the Associate Vice President, Capital Projects (AVP) will be responsible for managing the University's capital projects from project inception and design phases through commissioning and closeout, as well as for directing its real estate activities. As Princeton embarks on a major new multi-year capital program, the AVP will establish a strategic and integrated approach to developing the University's on- and off-campus space and facilities—academic, administrative, and student-life related—and will thereby strengthen its management of the extraordinary physical resources it leverages to advance the academic mission.
The AVP is also responsible for directing Princeton's real-estate development activities, including leading strategic planning efforts and oversight of acquisition, sale, and leasing of all Princeton's real property assets. This includes management, construction, and financing of all real-estate projects and collaborations with private development partners. The AVP leads a staff of approximately 60 professionals with a wide range of relevant skills.

Essential Duties and Responsibilities
Project Management Leadership
Provides leadership and direction to the Office of Capital Projects, ensuring that the combined professional expertise of the staff delivers innovative stewardship of University assets; maximizes cooperation among project stakeholders, design teams, builders, and developers from the inception of all capital construction and renovation projects through the programming phase to construction completion and turnover to building occupants; and delivers value to the University in its capital investments.
Works collaboratively with the University Architect, Sustainability, Engineering, Utilities and Operations groups and balancing design, budget, and schedule considerations, the AVP serves as the functional lead for all capital project management and all campus development activities. The AVP works collaboratively with the University Architect and the Director of Sustainability and ensures that planning and design standards continue to sustain the campus's aesthetic features while promoting its efficient use and enhancing its sustainability. The AVP works closely with Engineering, Utilities, and Operations groups to develop designs that facilitate efficient stewardship of new space.
Budget / Resource Management
Directs Princeton's real estate development activities, including strategic planning efforts, oversight of acquisition of property, lease negotiation, financing, and relationships with commercial brokers, developers, and real estate management firms. The AVP deepens Princeton's expertise in partnerships with real estate development firms as appropriate for new residences and other projects expected within Campus Plan 2.
Leads the planning and execution of large-scale projects for the University. Additionally, the AVP supervises and participates in the development of RFPs, contracts, proposals for goods and services, and the management of service providers and vendors.
Strategic Initiatives
Plays a leadership role in the development of best-in-class capital projects delivery by designing and managing efficient, effective, collaborative, and transparent processes to align internal and external project participants and by leading a high-performing professional staff of architects, engineers, project managers, and support staff.
Serves as an institutional resource for capital project delivery, the AVP collaborates with senior academic and administrative leadership to support Princeton's mission and will cultivate and sustain cooperative working relationships with local, county, state, and federal agencies.
Completes the implementation of a new project management software system, with appropriate adjustments to business processes within and beyond Facilities, and ensure that the new system improves project planning, delivery, and reporting.
Strategic Organizational Effectiveness
Develops a "center of excellence" approach to project management that, by sharing expertise, methods, tools, and resources, will enhance the capabilities of other Princeton units that may continue to deliver some of their own projects.
Enhances the collaboration with the Office of the University Architect in strengthening the early stages of the project life cycle, notably in activities such as design development and the selection of architects and engineers.
Leads appropriate innovation in project delivery models such as integrated project delivery to ensure that Princeton is always advancing projects optimally.
Contributes as a member of the senior leadership team of Facilities toward its ongoing excellence in stewardship, professionalism, and collaboration.
Committee Support
Supports the Vice President of Facilities in his role as secretary to the Board of Trustees Committee on Grounds and Buildings and in his work with the Facilities Planning Group—chaired by the Provost, this committee reviews capital projects and advances approved projects for consideration by the Board.

About Our Client
Princeton University is a private, Ivy League research university set on a 600-acre suburban campus in Princeton, NJ. Princeton was ranked #1 for Best National Universities in the 2021 edition of Best Colleges | U.S. News & World Report. The University is home to world-class research facilities that are available to researchers across disciplines and departments. Princeton University is classified as "R1: Research Universities (Highest research activity)" in the Carnegie Classification of Institutions of Higher Education. Having the strengths of a major research university with the qualities of an outstanding liberal arts college makes Princeton University truly exceptional.

Location
Located in Princeton, NJ

Helpful Links