Last month, Health Facilities Management and the American Society for Healthcare Engineering of the American Hospital Association (ASHE) released the results of their 2017 Hospital Construction Survey. Results demonstrated overwhelming evidence that healthcare organizations are focused on executing comprehensive and innovative design processes to meet the objectives of their capital plans with adaptability and flexibility as top priorities.
Highlights of construction planning and projects
Continuing a trend from last year, most hospitals are investing in renovation projects over the next three years versus new construction.

Hospitals are shifting resources from building outpatient facilities back to constructing central hospitals.

36% of healthcare systems updated their master plan in the last year, which also shows a change in resources and attention.

More than 62% of projects are being completed on or under budget, and on or ahead of schedule, demonstrating how effectively institutions are planning and managing their construction projects.
Staff is increasingly involved during the design process
According to the survey, 95% of healthcare organizations are inviting staff to have a say during the design phase of new construction and renovation projects. This is still a relatively new concept, but nonetheless a popular and valuable strategy for effective capital planning. Organizations have seen the difference it can make on the functional and long-term use of new/updated facilities as well as on employee motivation and engagement.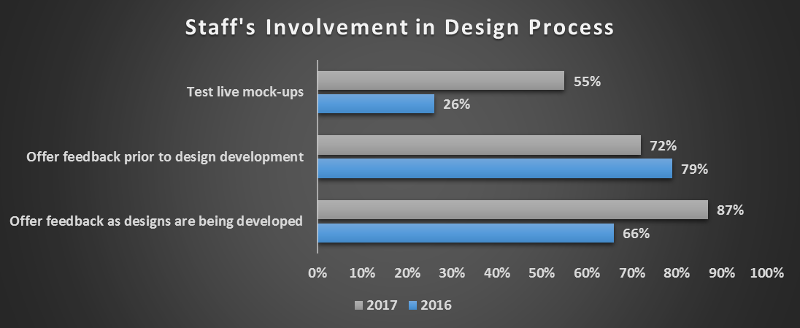 Building information modeling still not gaining traction
According to results of the survey over the past three years, BIM still isn't showing much usage among healthcare facilities. Experts say this is a missed opportunity because the benefits can be tremendous. BIM was actually being utilized more two years ago for project management and facilities operations. This year, less than 40% plan to use it for hospital capital planning and only 26% for facilities operations.
Type of Projects Seeing the Most Construction
During the last few years, there has been a surge in the construction and expansion of medical office buildings. In fact from 2015 to 2016, planned construction of these facilities more than doubled. This year, 65% of survey respondents have these structures at the top of their community-based initiatives. Other outpatient facilities that are seeing more attention for 2017 are: general medical and immediate care centers, ambulatory surgery centers, telehealth facilities and psychiatric hospitals / behavioral health centers.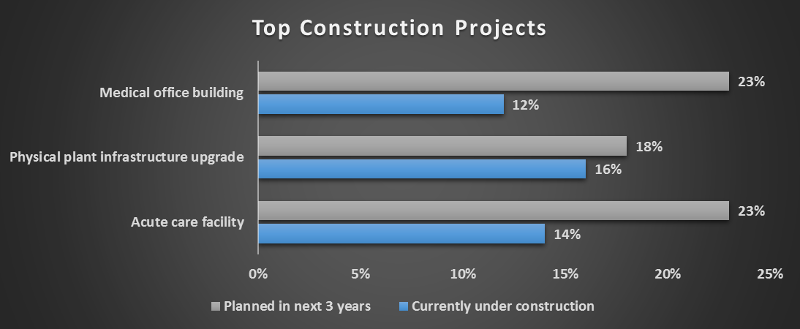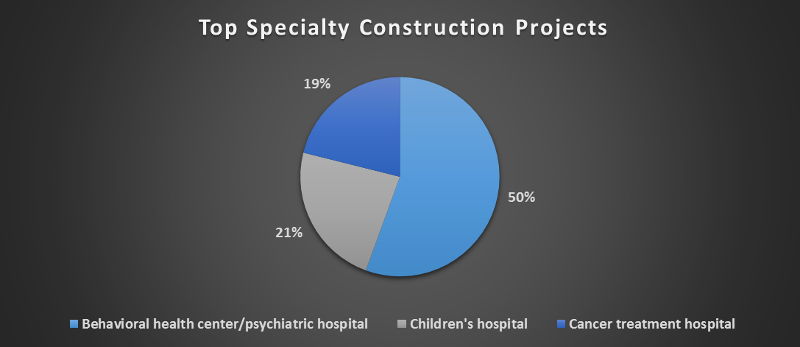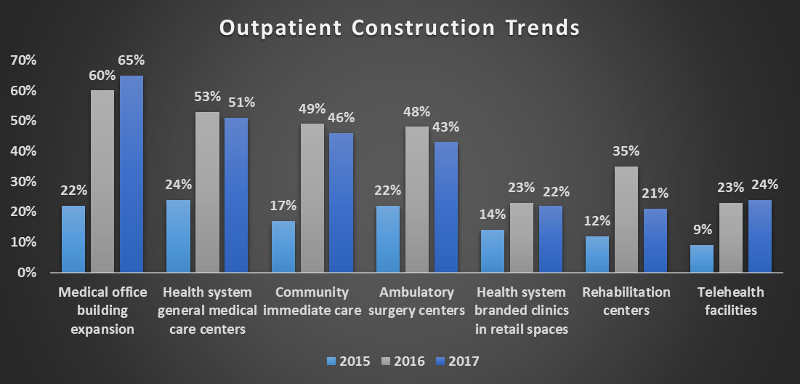 As we all know, the Affordable Care Act has played a pivotal role in healthcare planning and construction. Now that it may be here for the long term, it's likely that we will continue to see healthcare institutions adapt themselves, including their construction plans, to the changing needs of their communities and the aging U.S. population in general. There's no doubt the last several years have been stressful for these organizations but, from these results, they are resilient and flexible. We commend our clients and all healthcare organizations in their efforts to continue serving all of us the best they can.
About the survey:
The 2017 survey was based upon a random sample of 2,336 hospital and health system executives from more than 240 organizations nationwide.
View full survey results.