Engineering News-Record's (ENR) Top 600 Specialty Contractors issue had great news for the subcontracting sector - 2015 was a record-setting year! This doesn't come as too big of a surprise with the market's steady growth over the last several years.
Altogether, specialty construction firms shared $100.43B worth of revenues in 2015, up from $93.2B in 2014.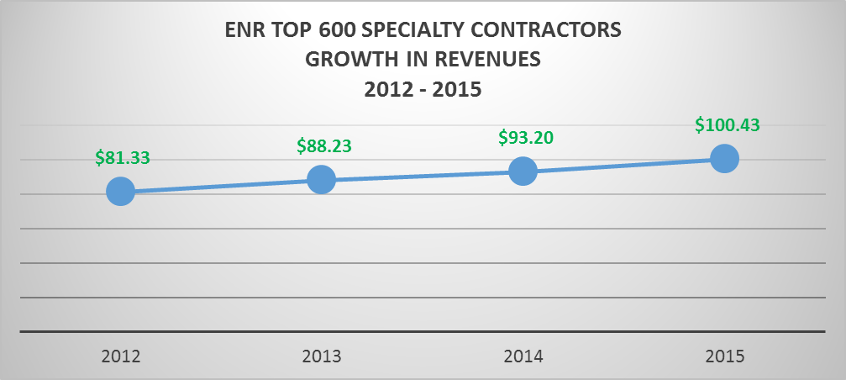 The top 10 firms and their 2015 revenues were: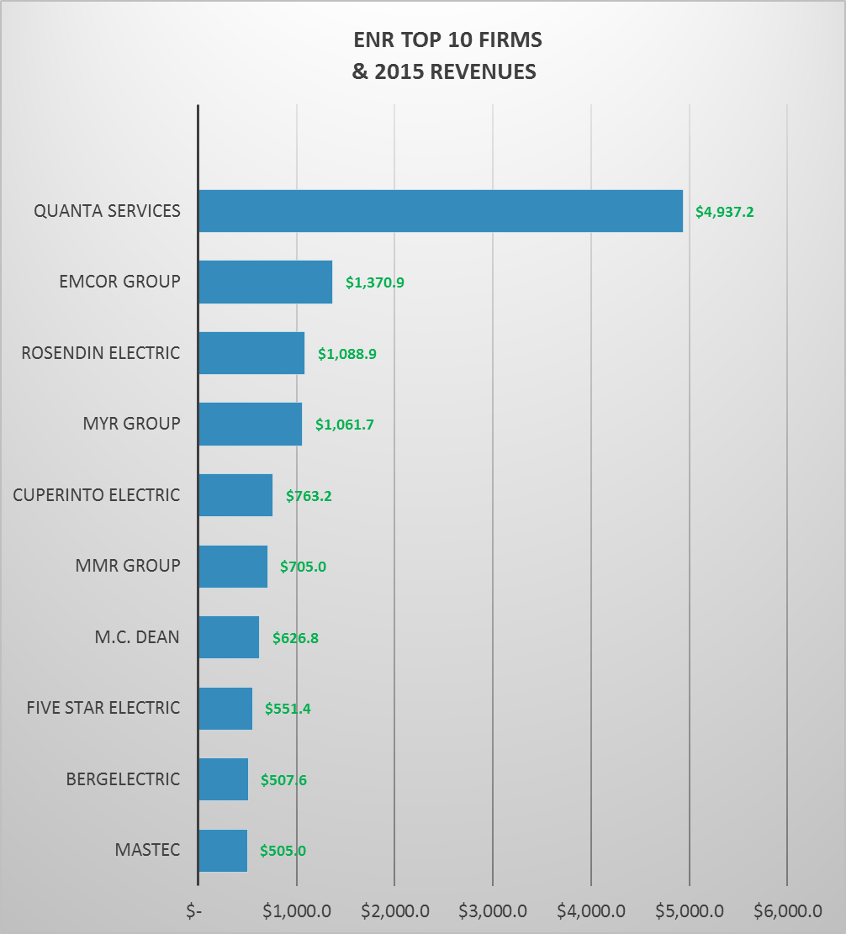 While firms are enjoying the robust market, they are also experiencing common challenges:
Profit Margins
Many firms have not seen their profit margins rise with the increased activity. While margins are mostly back to normal, many professionals expected them to be better at this point. One of the noted issues surrounding this is the fact that many contracting firms have owners that are getting older and planning for retirement. These individuals aren't interested in being aggressive with bids and taking a highly competitive stance to projects. Instead, they are looking more toward preparing their firms for potential sales.
Need for quality and collaboration
It comes as no surprise that subcontractors are increasingly requested to be involved in the construction process early on, which requires manpower, enhanced in-house capabilities, and additional hours expended on contracts. Building information modeling, integrated project delivery, prefabrication, and other advanced technologies and concepts are forcing firms to be more strategic and to change the way they've operated for decades. The only way to win good projects is to concur with these requests.
Risk Management
Legal protection is a high priority within every proactive firm. Companies are spending more and more time closely reviewing contracts and work specifications to make sure they are protected appropriately. One of the challenges is that, when they are bidding on projects, many times the plans are completely done. Not fully understanding what's being bid on and executing a contract anyways can lead to a high-risk situation that no company wants to assume.
Slow Payment Process
Slow payments have been an issue for a long time, especially when it comes to change orders, and they are difficult to manage when organizations, especially owners, have different payment policies that aren't typically favorable to vendors. But when an owner demands that work be done on a project, the work must be done to keep everything on schedule. The issue is that some contractors are doing the work before fees are discussed. As we all know, that can be a tough negotiation.
The American Subcontractors Association (ASA) is working hard to fix this issue for subcontractors who perform federal work by reviewing federal procurement regulations. The group recently completed a study that revealed 81% of subcontractors on federal projects had to wait more than 90 days for payment of change orders, and nearly a fourth of them lost money because of it.
Shortage of skilled labor
All of us involved in the construction industry are familiar with the widespread shortage of skilled labor, which is affecting entities in all markets and of all sizes. According to ENR's data, only about 27% of specialty construction firms reported a skilled labor shortage in 2012. By 2014, that number was at 57%, and this year, it is almost 61%. As professionals in the skilled labor realm approach retirement and less young professionals enter the field, the situation is only going to worsen, and it causes additional stressors such as training, safety, and costs.
Despite the above challenges, the specialty contracting sector is moving forward in an active market, which is always good news. The firms that adapt to the changing trends and implement to new technologies, progressive strategies, and other pressures will strengthen themselves and, undoubtedly, be better for it in the long term.