You don't have to look far in New York City to see a megaproject under development. Top real estate developers have the metropolis teeming with activity. The city has always been known for its megaprojects due, in part, to its reputation of being a "safe" investment for investors. According to CBRE, the Big Apple remains the largest domestic real estate investment market at $657B and is only second world-wide following Tokyo at $711B. Comparative to other markets, New York's real estate offers liquidity, stable pricing, and land appreciation. The buyers and investors are there and more want to get in on the action, so developers keep on doing what they do best - develop.
New York City is exciting for most any person that has a pulse. But, for us at Helbling, we are most intrigued by the city's real estate development and construction activity. Why? Because the city has been one of our core geographical regions since we were founded in 1992. Tom Helbling has been conducting executive searches for construction and real estate developers in NYC since 1978. Hence, we find the city alluring and its megaprojects fascinating. Knowing what goes into making these complex projects a reality, we have the utmost respect for the developers who envisioned them.
Let's take a look at the real estate developers making their mark on the city and a few of the major developments making history....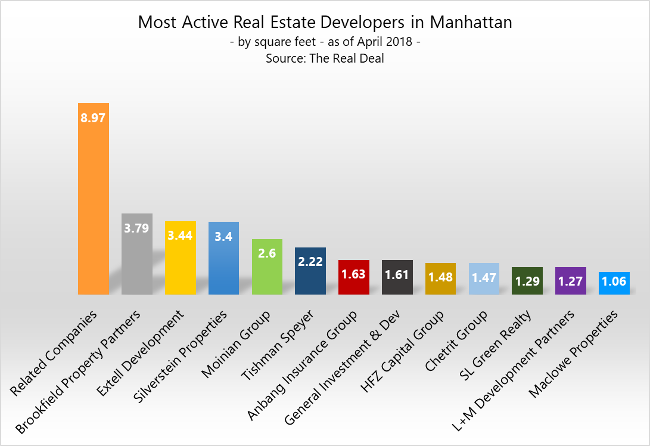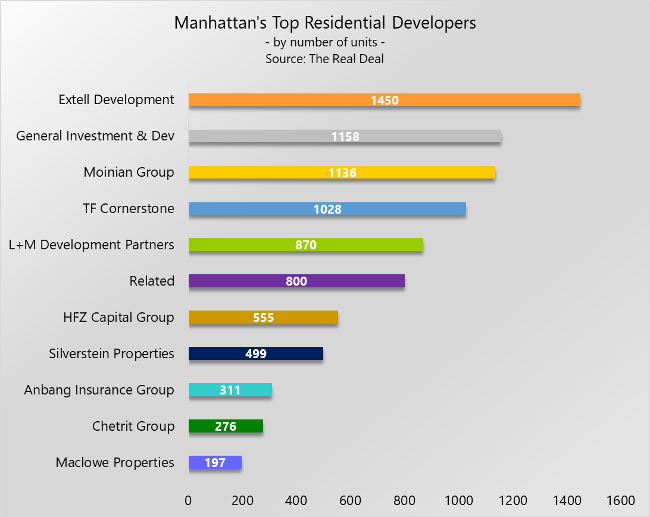 Hudson Yards
Developers: Related Companies and Oxford Properties Group
Size: More than 18M square feet
Expected Completion: 2024
Estimated Cost: $20B
The infamous Hudson Yards is the country's largest private real estate development. Even the strongest critic would agree that this project is incredible. Being built over active rail yards? Who would have imagined something like that just a decade ago? The Related Companies imagined it - and now their dream is unfolding.
Manhattan West
Developer: Brookfield Properties (The Qatar Investment Authority has a 44% share of the project)
Size: 5.4M square feet
Estimated Cost: $5B
Expected completion: 2019
Development features 844 residential units, 45 condominiums, 164 boutique hotel rooms, 4M square feet of new commercial office space, and 1.7M square feet of redeveloped space within the Hudson Yards District. It's not surprising that this breathtaking project has attracted tenants like Ernst & Young, the National Hockey League, and Amazon.
Central Park Tower
Developer: Extell Development and Shanghai Municipal Investment Group
Size: 3.44M square feet
Estimated Completion: 2020
Also known as Nordstrom Tower, Central Park Tower is located in Manhattan's Billionaire's Row. When completed, it will be the city's tallest residential tower and the second tallest in the U.S. at a height of 1,550 feet. It's also the most expensive condominium project in the country! The development includes 179 exclusive homes, 50k square feet of luxury services and amenities, and 300k square feet of specialty retail space, including Nordstrom's flagship Manhattan store.
Essex Crossing
Developer: Delancey Street Associates (Team includes BFC Partners, L+M Development Partners, Taconic Investment Partners, and the Goldman Sachs Urban Investment Group.)
Size: 1.9M square feet
Estimated Completion: 2024
Development boasts 1,000 apartments, 400k square feet of office space, and 450K of retail spaces over nine sites (Market Line, Essex Street Market, Trader Joe's, Target, NYU Langone's Joan H. and Preston Robert Tisch Center, Splitsville bowling alley, and Regal Cinemas). What's even more awesome is that all sites are connected by bike paths and green space.
There you have it - the mega real estate developers and some of their megaprojects. We hear all about them from Tom Helbling and other colleagues when they come back from business trips to the city. The rest of us can't wait to go see them for ourselves!