If you live in New York City, you're well aware of the construction activity going on. If you don't live in the city, just imagine walking down the sidewalk and constantly encountering temporary walkways, buildings covered in scaffolding, and numerous cranes jutting into the sky. That is what the Big Apple is all about right now - construction. And, it's tremendously exciting.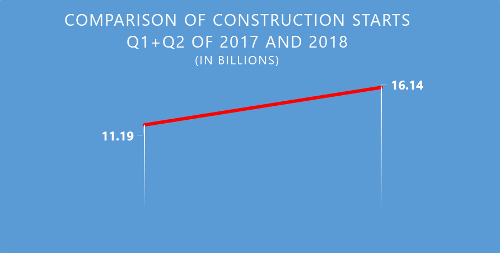 Since the beginning of this year, New York has seen a surge of construction in all of its boroughs. In fact, activity was up 50% during the first two quarters compared to the same period in 2017. At the time of writing this blog, there are 6,476 active permits encompassing 182,321,132 square feet. And, those numbers are rising.
Can you imagine tracking all of these projects? The
Department of Buildings
does just that – and recently, the agency launched a new interactive, user-friendly, real-time
map
so that anyone, professional or resident, can access the information. This map, which involved much planning, analysis, and innovation, is making thousands (maybe millions) of people's lives a whole lot easier. It is the agency's most recently released tool in a series of dashboards, reports, and other insight into the city's construction environment.
Being heavily involved in New York City, our firm finds this resource fascinating. We are always impressed by the amount of activity going on and the size and cost of the projects being planned and constructed. We couldn't resist seeing the new map for ourselves and exploring its data.
Interestingly enough, while most of the money is being spent and invested in Manhattan, it is Brooklyn and Queens that are leading the city in new building permits. Not surprising to us was where a lot of the activity was happening – Hudson Yards – and the big players who are consistently behind these types of mega-projects, such as Related Companies, Oxford Development, Tishman, and LendLease to name a few. Of course, there are more, and there is no shortage of projects to keep progressive firms of any size busy. It's simply a question of "how busy do they want to be?".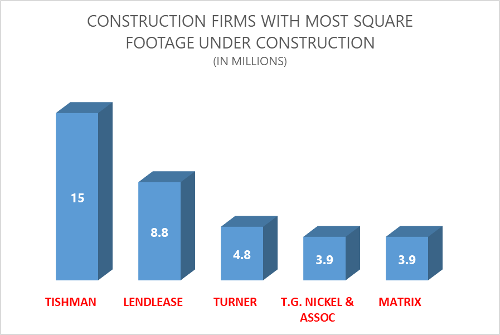 What intrigued us the most were the largest and most expensive projects going on in Manhattan – the borough in which we work most often. These were the iconic developments that made the top of the list:
500 West 33rd Street (Hudson Yards)
Square footage: 3.9M
Developer/Owner: Related Companies
Contractor: Tishman Construction
Architect: Kohn Pedersen Fox Associates
Estimated Cost: $575.7M.
415 10th Avenue (50 Hudson Yards)
Square footage: 2.91M

Co-Developers: Related Companies / Oxford Properties

Contractor: Hudson Yards Construction II, LLC

Architect: Foster + Partners

Estimated cost: $431.4
401 9th Avenue – One Manhattan West (Hudson Yards)
Square footage: 2.01M

Developer: Brookfield Property Partners

Contractor: Tishman Construction

Architect: Skidmore Owings & Merrill

Estimated cost: $297.6M
501 West 30th Street (Hudson Yards)
Square footage: 1.81M

Developer: Related Companies

Contractor: Hudson Yards Construction

Architect: Kohn Pedersen Fox

Estimated cost: $267.5M
10 Vanderbilt Avenue / 1 Vanderbilt Place
Square footage: 1.76M

Developer: SL Green Realty

Contractor: Tishman

Architect: Kohn Pedersen Fox

Estimated value: $259.9M
217 West 57th / Central Park Tower
S

quare footage: 1.29M

Developer: Extell Development

Contractor: LendLease

Architect: Adrian Smith and Gordon Gill

Estimated cost: $190.2
Just these projects equal more than $2B in estimated costs!
Visit the map
and see the amount of activity for yourself; you're bound to be impressed. Even if you're not directly involved in construction and real estate development, you can easily imagine the benefit of having this type of information at your fingertips. The DOB didn't just develop this tool for the construction community. It was also designed to help neighborhoods and residents understand what is going on around them. What a great idea and useful resource! We congratulate the DOB and its entire team on this huge accomplishment.