Construction is a hot topic in the healthcare sector with numerous large projects being planned or under construction throughout the country. The aging population, market competition, and the need to continually raise the bar in the delivery of care have kept healthcare organizations on their toes. While balancing these dynamics with financial resources has proven to be challenging, progressive organizations are confidently forging ahead with capital construction initiatives, benefitting their own institutions, as well as the design and construction firms that specialize in their sector.
According to Revista, a leading firm that provides data on healthcare construction, at the end of 2015, there were 1,270 projects planned or underway valued at $97.1B. Of that:
72% of projects were being built on separate sites from main healthcare campuses

75% were expansion projects

25% were new hospitals or replacements
In September, Revista updated its statistics to report that the healthcare construction pipeline had grown and was at $102.1B, marking a 5% increase from just 9 months prior.
Top cities for medical construction
As a group, the following metropolitan areas have 124 hospitals and 153 medical office buildings under construction:
Atlanta
Boston
Chicago
Dallas-Fort Worth
Houston
Los Angeles
Miami-Fort Lauderdale
New York
Philadelphia
Washington DC
Largest projects in the planning stages

While architecture, engineering, and construction firms that focus on the healthcare sector are in an enviable position, they too have their challenges with retaining and growing market share. To support their customers in enhancing the patient experience and delivery of care, these entities are adapting their services as needed, incorporating the latest construction trends and delivery methods, such as design-led construction.
Design-led construction a growing trend
Design-led construction or single-source delivery is a popular and growing concept in the healthcare building sector. This method not only reduces inefficiencies and mitigates risk, it also helps an institution achieve its financial and operational goals while accelerating its speed to market. Design-led construction is a highly collaborative process in which architecture, engineering, and construction firms partner as one entity to deliver a project. Its benefits include:
Guaranteed price
Strong collaboration and communication among all players and on all project components, especially as they relate to budgets, allows stakeholders to take advantage of current costs and savings opportunities, maximizing the institution's financial investment.
Enhanced efficiency
Ideas, workflows, schedules, and best practices are closely monitored resulting in less unforeseen challenges and concerns.
Reduced

legal issues
Working in partnership, firms must solve any issues amongst themselves with no involvement of outside legal teams.
Strong institutional brand
The institution has the benefit of being guaranteed that what is designed can and will be built according to contract documents. Furthermore, having the design firm lead a project can enhance the architecture and quality, resulting in a well-designed facility and thus an example of the institution's brand in the marketplace.
The key players in the healthcare design and construction market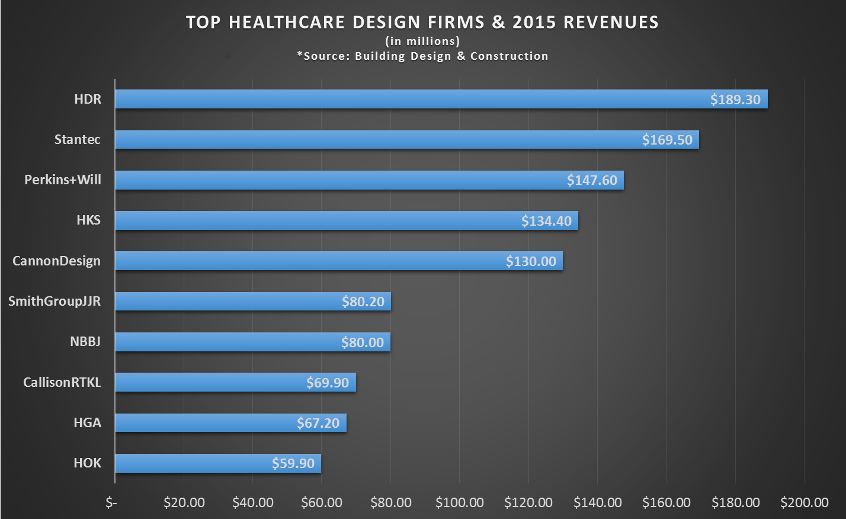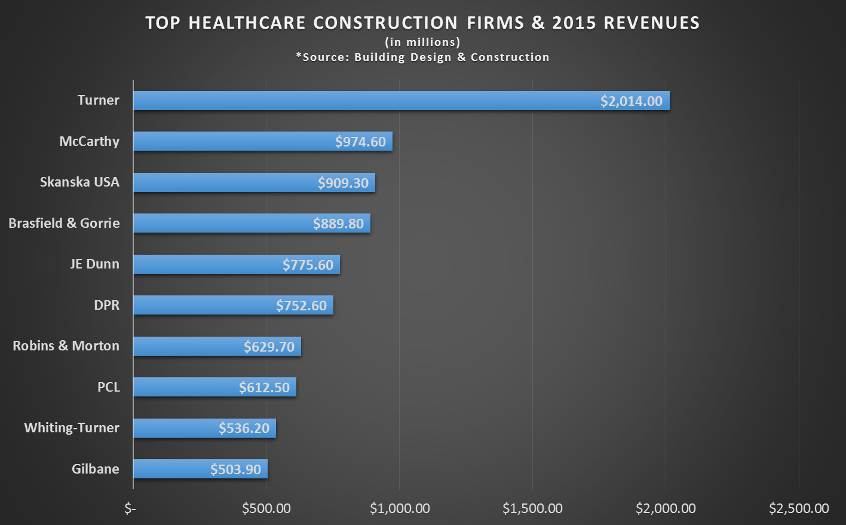 Large and reputable healthcare institutions will continue to adapt to the changing marketplace in order to remain at the forefront of the delivery of care. Subsequently, design, engineering, and construction firms will need to keep their pulse on this sector to support their customers in achieving their objectives. Projects will continue being partnerships between institutional executive leadership, facilities executives, and internal and external design and construction teams. After all, it takes diverse perspectives and skills to successfully envision and build state-of-the-art facilities in today's quickly changing medical landscape.
Sources: Building Design & Construction, Revista