Earlier this year, Health Facilities Management and the American Society for Healthcare Engineering of the American Hospital Association teamed up to conduct its annual hospital construction survey. An overwhelming theme of the 2016 survey was the strong focus on patient satisfaction as it relates to healthcare design and construction.
98% of participants noted patient satisfaction as important in considering the designs of their facilities.
45% have updated their master plans within the past 12 months, up 42% from last year.

63% of respondents include patients or community members in the design process for new facilities.

79% provide feedback prior to design development.

66% provide feedback during design development.

26% use patients or community members to test live mock-ups.
What is attributing to these staggering statistics?
More than ever before, patient satisfaction is tied to reimbursement. Beginning in 2012, Medicare payments are partly based on patient scores of the Hospital Consumer Assessment of Healthcare Providers and Systems (HCAHPS). HCAHPS is the first national, standardized, publicly reported survey of patients' perspectives of hospital care.
Privacy, noise reduction, and bedside personal controls are all part of satisfaction and hospitals are stepping up to the task. In fact, 66% of respondents said that they are converting semi-private rooms to private rooms, 75% are providing WiFi, and more than 50% are providing patients with more control for lighting, temperature and window shades.
New Construction Versus Renovations and Other Initiatives
According to the 2016 survey, 70% of respondents have projects under construction or planned in the next 3 years. Of those, 75% are expansions or renovations, illustrating that completely new construction is a small percentage of current and planned projects. Of acute care hospitals, less than 10% had new construction projects in process and 17% had replacement projects underway or planned over the next 3 years. While those may not be impressive numbers, other types of construction, infrastructure, and facilities-related projects are taking priority. Projects in process or planned by survey participants are:
Construction

38% - Physical plant and related infrastructure
35% - Medical office buildings
21% - Outpatient facilities
Building Services Equipment
49% - Air handlers/ventilation equipment
31% - Electrical switchgear/transformer
25% - Boilers
Building Technology Systems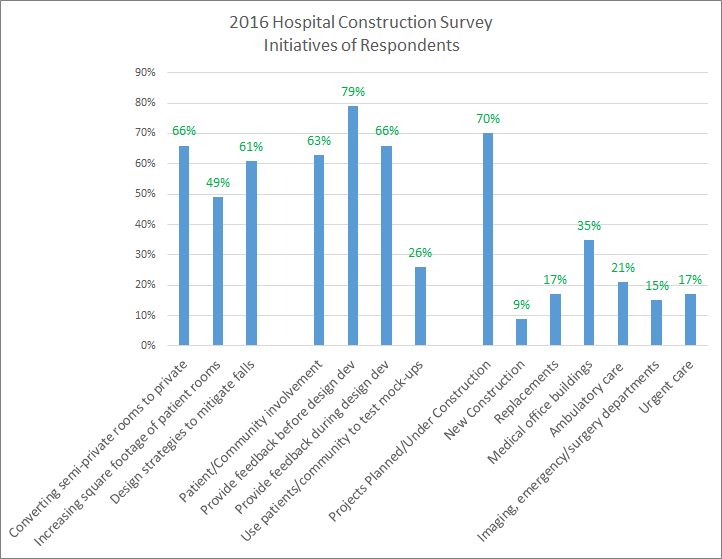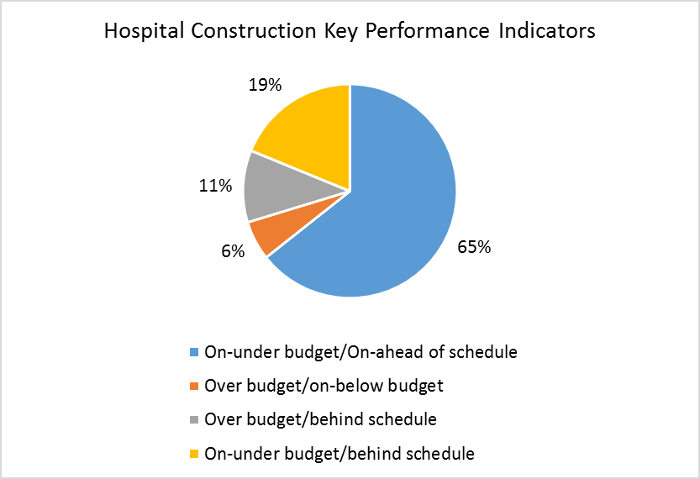 Outpatient Facility Construction Is Its Own Market
As we all know, the Affordable Care Act has been a driving factor for many trends within healthcare construction. When one compares 2016 and 2015 survey data, the findings are significant, which is also indicative of how healthcare systems are catering to patients and their families by providing facilities within or close to their communities.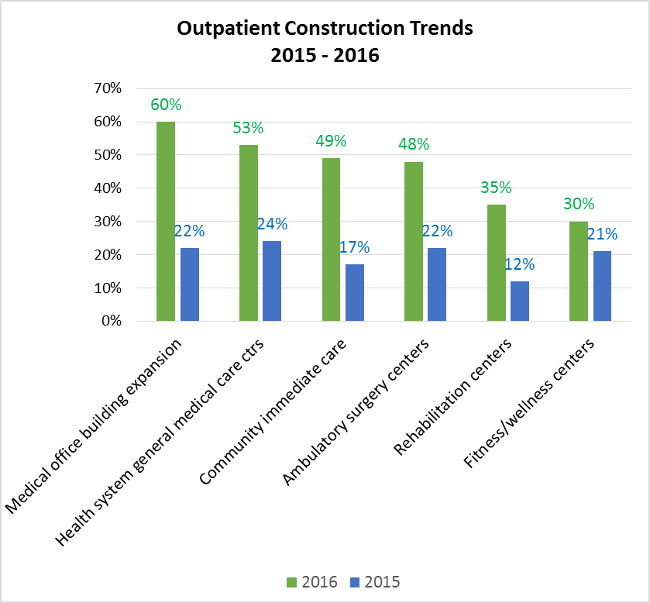 For full survey results on trends in healthcare construction, visit Health Facilities Management's website.
About the survey:
Health Facilities Management (HFM) and the American Society for Healthcare Engineering of the American Hospital Association surveyed a random sample of 3,125 hospital and health system executives to learn about trends in hospital construction. The response rate was 6.6%. Sponsors of this survey were Modular Services Company and Ecore Commercial Flooring.