Not surprisingly, the green design and building market has continued to grow and evolve. Green revenues for design firms and contractors grew again last year according to Engineering News- Record's (ENR) most recent rankings of the Top 100 Green Buildings Design Firms and Contractors. While the green design market didn't see as much of a jump in 2017 as it did the prior year, it did increase by 3.7%. The green contracting market, on other hand, went up 8.5%, very similar to what it did between 2015 and 2016.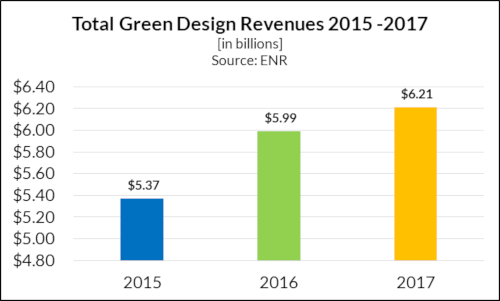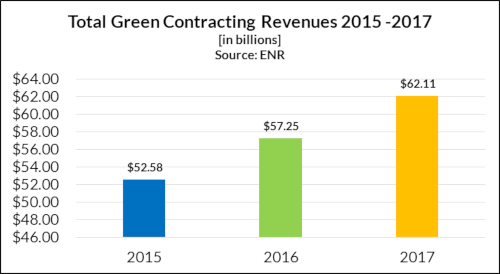 While there weren't too many changes in this year's stats, the one thing that is definitely changing in the world of green design and construction is the rise of other standards and certifications beyond LEED Version 4, all of which are at the core of these rankings. All of ENR's data is based on revenues from projects registered with and actively seeking certification from third-party ratings groups under objective sustainable design standards.
Before we get into those other programs, let's first look at the components of ENR's statistics.
Stats that didn't change much:
Commercial offices remain at #1 for green design and construction with education coming in a close second for 2017, followed by non-building miscellaneous and healthcare.
Gensler and AECOM still led the pack among design firms. (Notable is Gensler has more than 1500 staff who are green-accredited.)
The top 5 contractors held their ground, which are: Turner (significantly in front of the rest and with a whopping 1500 people on staff who are green -accredited), Clark, AECOM, Swinerton, and Hensel Phelps.
And, rankings that did:
LendLease jumped up 5 spots from #12 to #7.
Walsh Group rose 7 spots from #17 to #10.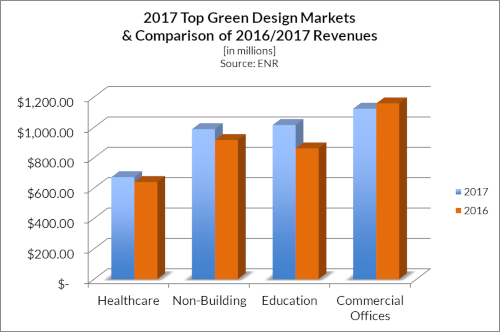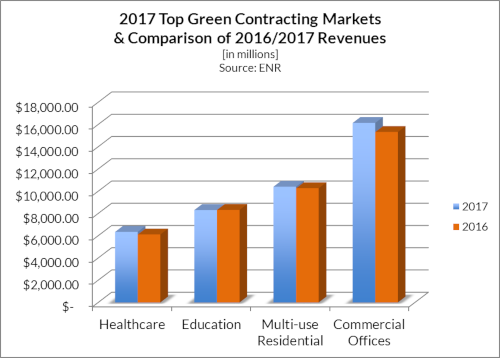 Another interesting component to consider when looking at the rankings is how much of these firms' revenues are from green-related services. Consider these percentages...
Of top green design firms, in order of percentage of green revenue of total revenue:
ARUP - 90%

HOK - 76%

Gensler - 70%

Skidmore, Owings & Merrill - 64%
Percentages for the rest of the top 10 firms are lower than 50%.
Of top green building firms, the percentages range from 30% (Skanska) to 86% (Webcor).
​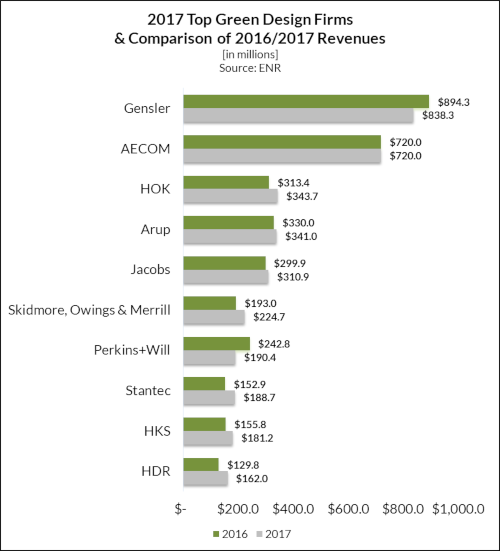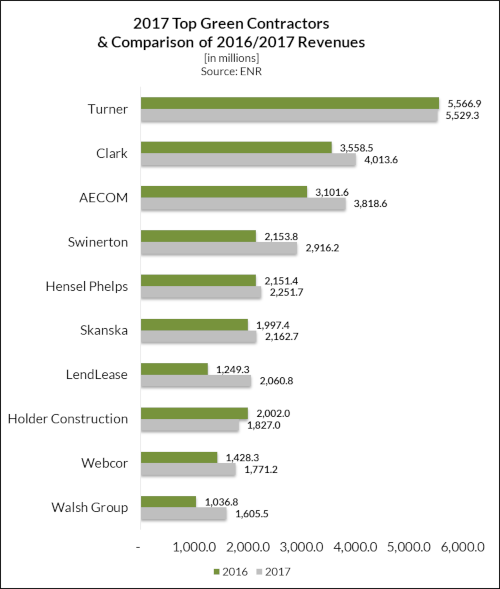 So, now let's just on the programs that are the basis for these rankings. We all know about USGBC's Leed Version 4. But, what are the others that are getting attention and rising in popularity among owners for diverse reasons?
So, there you have it - a high-level view of the status of green design and building. As most all of our readers are involved in construction, engineering, facilities, and real estate development, we are confident that you find this information as interesting as we do. Many years ago when we started writing blogs associated with green building, the concept was new an intriguing to all of us. We are glad it wasn't just a passing trend. We look forward to seeing how this sector continues to grow and evolve. On behalf of all of us at Helbling, we commend the industry's players and congratulate all of the companies on ENR's list.
Want more information on the global green building market? Read "Green Building Trends 2018 SmartMarket Report" by Dodge Data & Analytics.