As the winners of this year's Engineering News-Record (ENR) New England best projects bask in their accomplishment, we are excited for the upcoming award of overall "Project of the Year." Set to be announced on December 12th, 2018, we anticipate one of the following Helbling 'favorites' to bring it all home.
Lowell Community Health Center – 101 Jackson Street Expansion – Best Health Care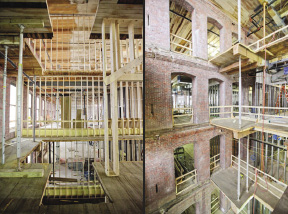 Photo Credit: Heidi Gumula for DBWV Architects
Making room for dental, optometry, and adult primary care medicine, this newly renovated former mill building spans across 6 floors and 68,000 SF. Valued at $26M, Lowell CHC's long-term partner JM Coull was tasked with the job. In an effort to provide better quality care and energize the local community, design and construction centered on integrating aspects of healthcare to create one experience, one place, for overall wellness and treatment. JM Coull embarked on turning this vision into a reality, customizing the first three floors to cover everything from labs, imaging, and testing to exams, services, and operations. In expanding their scope, Lowell CHC is able to work with lower income families to provide testing, treatment, and counseling to address pediatrics, family planning, and behavioral health, all of which residents claim is a true benefit to have under one roof. The most exciting part? The dental clinic, which is widely anticipated to have the biggest impact on the community. Check them out at https://www.lchealth.org/about-us/about.
Yale University, Benjamin Franklin and Pauli Murray Colleges – Best Higher Education/Research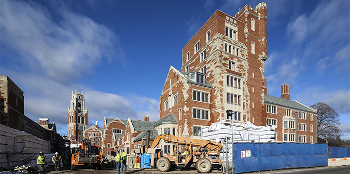 Photo Credit: Phil Handler
A study in detail, patience, and Gothic-style architecture, the new Benjamin Franklin and Pauli Murray Colleges exemplify the success of the community structure at Yale University. Through continuity and integration, these residential colleges house 904 students in 550,000 SF of space. Out of respect for tradition, architecture and interior design firm Robert A. M. Stern Architects and construction firm Dimeo partnered to create buildings that were symbolic and iconic while maintaining the "Yale Experience" to ensure all students walked away with a similar sophistication. Dimeo went to town, laying mostly bricks, and a combination of brick and stone, collapsing the distance between buildings and creating a sense of togetherness. Beginning in October 2014, Dimeo construction crews stayed on schedule even through rough New England winters, and the first students were able to move in on August 25th, 2017. The most interesting and exquisite piece was the construction of two 300-seat dining halls, one in each college, which was built to fundamentally change the way the university approached food and supply management. See more at https://hospitality.yale.edu/residential/pauli-murray.
Orville H. Platt High School Additions and Renovations – Best K-12 Education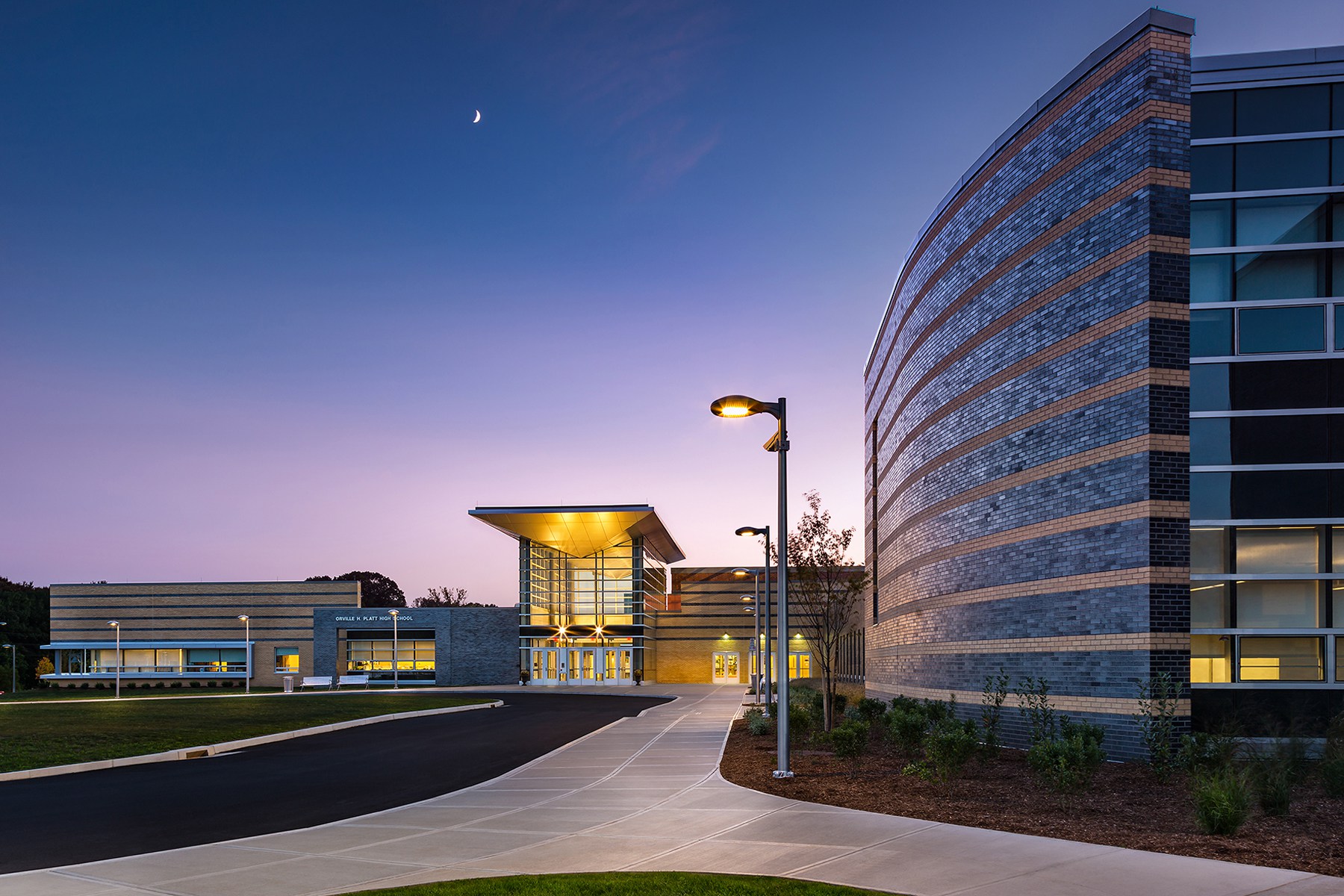 Photo Credit: Janine Montagne Photography
In October 2013, the Orville H. Platt High School project began, and was already off to a delayed start. However, renovating 87,812 SF of existing space and adding 176,188 SF of new space was no problem for O&G Building Group, who completed the project three months ahead of schedule. What is touted as the largest construction project in the history of the city of Meriden looks like a modern piece of art. Exquisite features, like the glass-wall library, bolster collaborative activity between students and faculty. Recapturing the spirit of the city, the school serves as a beacon of hope, and currently, provides students with a sophisticated, centered learning environment. The most exciting part about this project was that 90 students got to play a role in the building process. Through a program created by O&G, high school students were able to participate and gain credits while working hands-on in the construction field. How cool! Check out some of the construction in May of last year https://www.youtube.com/watch?v=mbh2GIH01Vk.
I-91 Brattleboro Bridge Improvements – Best Highway/Bridge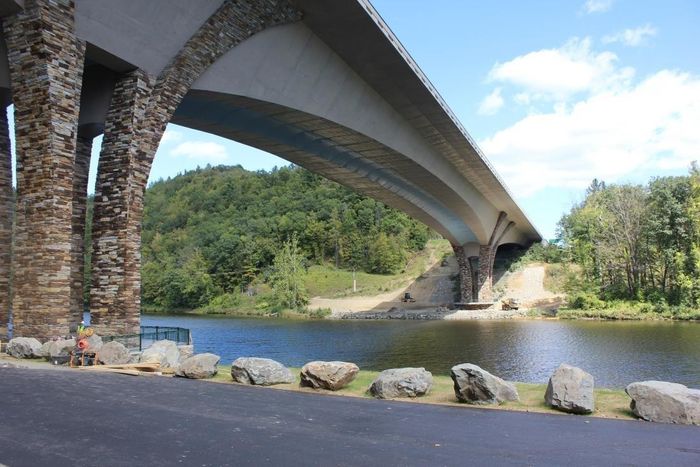 Photo Credit: State of VT Agency of Transportation
The picture speaks for itself. This beautiful bridge located on Interstate 91 leading from Massachusetts to Brattleboro, Vermont exemplifies the meaning of community and collaboration. Public meetings were held to discuss the replacement of the old bridge and volunteers from VTrans aided in incorporating constituent's requests. Ultimately, a committee was created and PCL Civil Constructors was tasked with the job. In an attempt to stay with the theme, "A bridge to nature," PCL used native landscaping to create viewing platforms that allow patrons safe access to the West River and Vermont landscape without obstructing the flow of traffic from Route 30 below. Standing tall at 100 feet above the river valley, this durable bridge swapped steel for concrete, using a mixture of slag cement, micro-silica, and portland cement that compliments the surrounding environment. The sleek arches underneath are said to create a picturesque view like that of a postcard, and we couldn't agree more! See the grand opening ceremony https://www.youtube.com/watch?v=JgZU2vxTtjw.
Of course, these are just four of our Helbling favorites. See the full listing of ENR New England winners.
Congratulations to all winners, and good luck in the overall competition!