Dodge Data & Analytics released its much anticipated 2017 Dodge Construction Outlook on October 20th at its annual executive conference. The overall prediction? 2017 should be a good year for the construction sector. The company's Chief Economist Robert Murray, is quoted in a press release saying, "total construction activity, as measured by the construction starts data, is on track this year to record the strongest annual gain so far in the current expansion, advancing 13%.


Dodge's Construction Starts at a glance:
2016 Projected: 6% increase to $712B.

2016 Adjusted: 1% increase to $676.4.

2017 Projected: 5% increase to $712.9B.
According to Dodge's Chief Economist Robert Murray, the current period of growth will continue into 2018. Since the last recovery was gradual, Murray believes the cyclical decline (expected in 2018 or 2019) will progress in the same manner.
What should industry players expect to see in 2017?



Infrastructure spending support

Both the Republican and Democratic parties are in support of expanding infrastructure investment.
Certain energy sectors (electric power and gas plants) continuing to negatively affect the overall picture
This particular industry has seen so much volatility over recent years and is expected to continue this trend. Some economists, like Murray, feel that it is negatively impacting overall industry forecasts, and for more accurate analytics, they should be removed from consideration for the time being.
The impact of rising interest rates not to be seen until 2018 or 2019
Short-term interest rates are expected to increase at the end of this year and in 2017 but they will be moderate and, therefore, won't have an immediate impact on the construction industry. Instead, Murray believes their true impact will be felt in 2018 / 2019.

The following chart illustrates the past two years and projected activity in specific markets for 2017.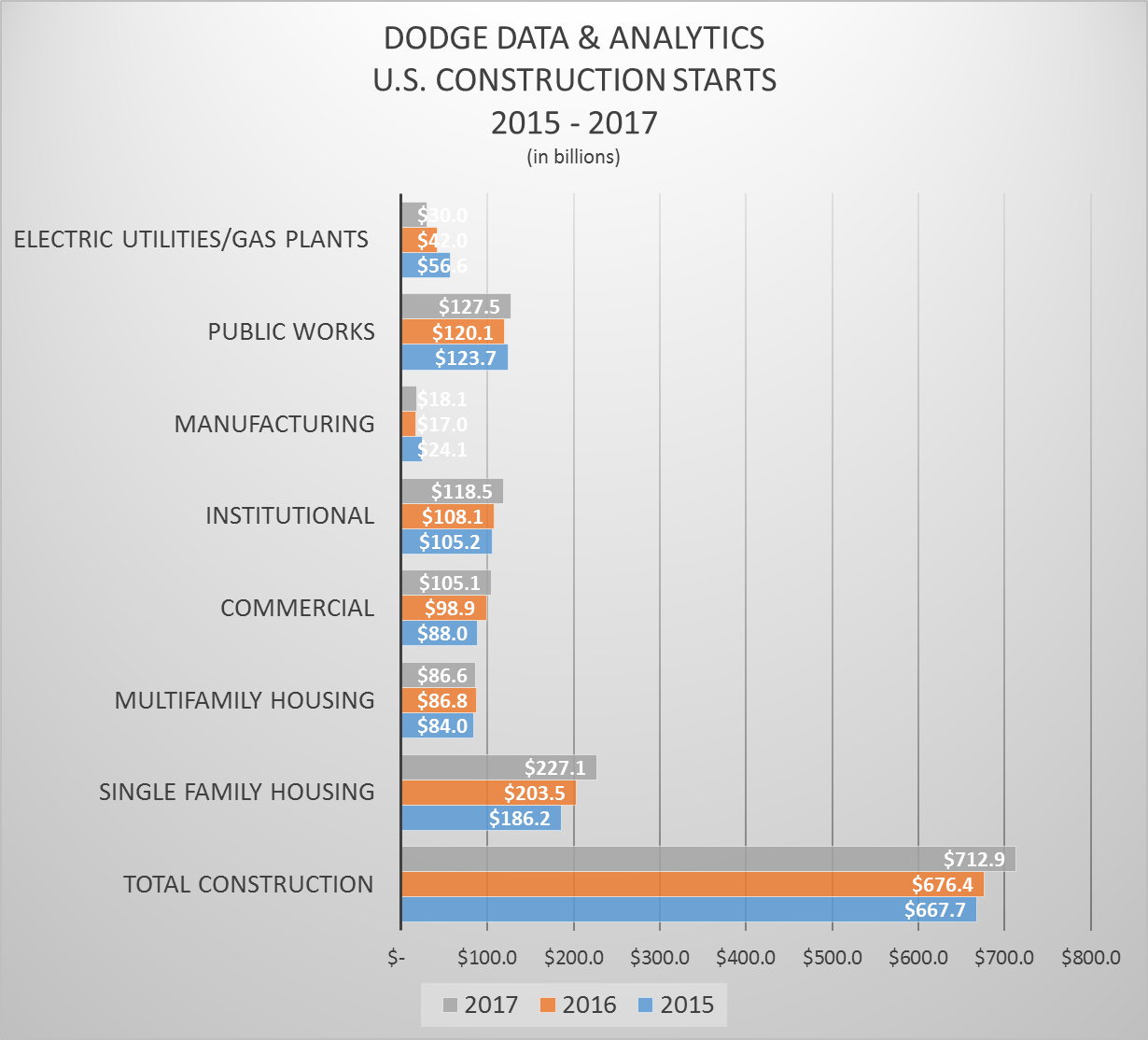 To learn more, visit www.construction.com.
About Dodge Data & Analytics: Dodge Data & Analytics is the leading provider of data, analytics, news and intelligence serving the North American construction industry. The company's information enables building product manufacturers, general contractors and subcontractors, architects and engineers to size markets, prioritize prospects, target and build relationships, strengthen market positions, and optimize sales strategies. The company's brands include Dodge, Dodge MarketShare™, Dodge BuildShare®, Dodge SpecShare®, and Sweets.