Kenyon College has retained Helbling to conduct an executive search to secure a Director of Project Planning and Management.

Position Summary / Essential Job Functions
Reporting to the Vice President for Facilities, Planning and Sustainability (VP-FPS), the Director of Project Planning and Management is responsible for planning, organizing, coordinating, directing, and controlling capital planning, new construction, and major renovation and building decommissioning projects. The Director will be responsible for managing project budgets, cost estimating, supervision of general contractors and construction management firms, coordinating project bid processes, and long-range facilities development plans. The Director will provide supervision to both permanent and temporary employees as needed for the proper functioning of the College's Project Management Office. The Director will work closely with end users and the Director of Facilities Operations (DFO) to ensure that projects are integrated seamlessly into campus operations upon turnover and throughout the construction warranty period and beyond. This position also supports the VP-FPS in the development and implementation of strategic direction for the Operations Division as it relates to their functional area.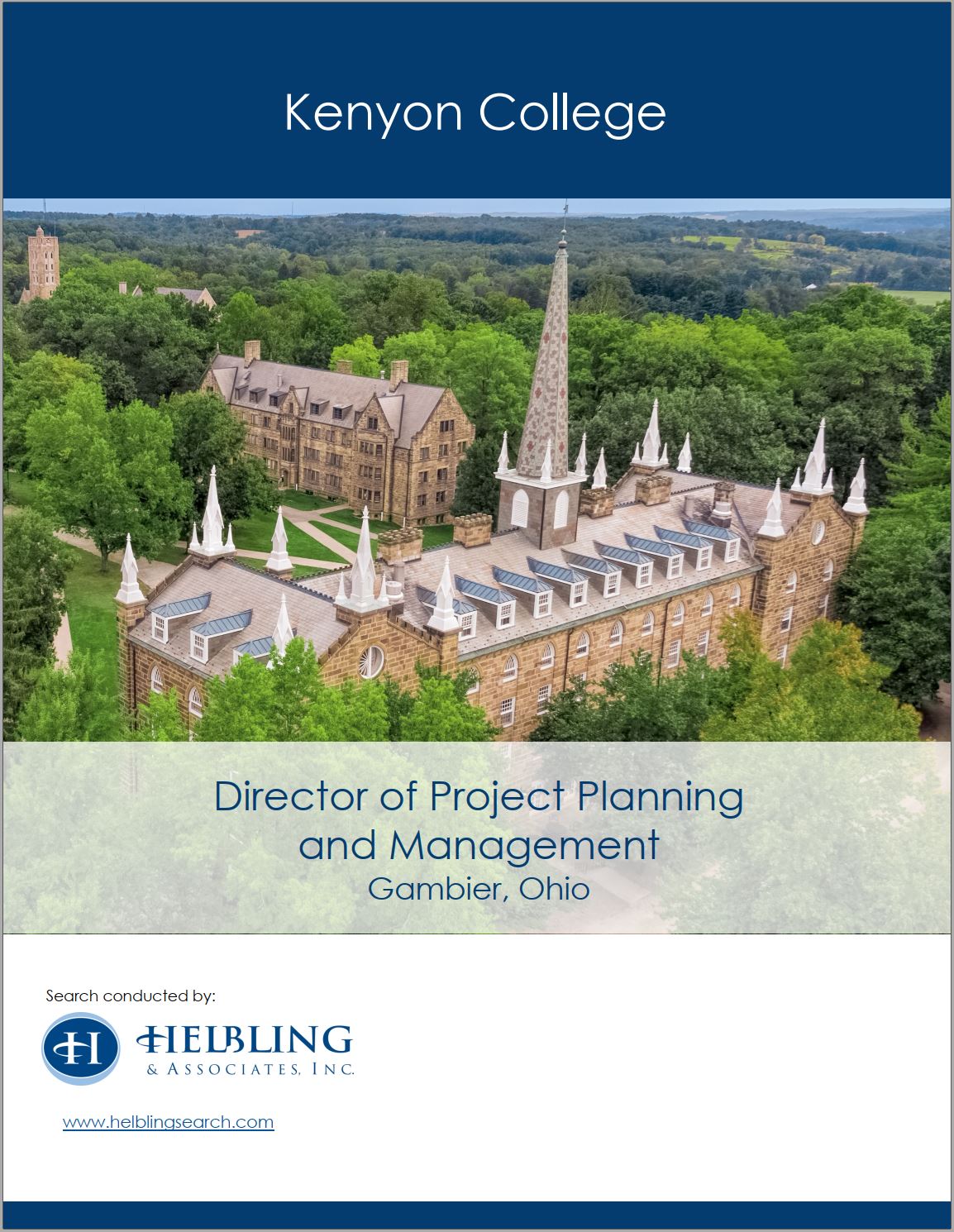 For more details about this opportunity, please view the position profile by clicking on the image to the right.

Under the direction of the VP-FPS, the Director leads the project planning and management functions by:
Overseeing all phases of new facilities development initiatives from concept through design and construction through completion of the warranty period.
Overseeing the decommissioning and demolition of facilities that have reached the end of their useful life spans or are otherwise identified as surplus.
Directing and managing administration of contracted projects.
Supervising and coaching assigned subordinate Project Planning and Management department employees to achieve high performance standards.
Providing guidance and direction to staff, contractors, and vendors in conjunction with the development and implementation of capital projects to ensure campus standards are met.
Overseeing the maintenance of all documentation and records pertaining to new facilities and facility renovation planning and construction.
Coordinating the construction bid process with the VP-FPS, evaluating bid submissions, and making recommendations for selection.
Notifying the VP-FPS of any issues that may result in significant delays and recommending solutions and interventions.
Ensuring that approved project funds are spent in accordance with college policy and protocol.
Developing and monitoring detailed budgets.
Other such duties as may be assigned from time to time.
Responsibilities
The Director ensures that projects assigned to the department are properly managed through directing and overseeing subordinates as they complete the following activities:
Preparing and reviewing estimates and schedules at all project stages, preparing trend reports of impacts of design developments and new requirements on project costs and schedules, and leading value engineering efforts to correct/address adverse trends.
Tracking milestones and timelines for all projects by employing effective metrics to assess progress against stated goals and analyzing and resolving issues that impact project schedules and budget projections.
Collaborating with internal and external constituencies to ensure successful planning and construction of new facilities.
Serving as the liaison with village, state and federal agencies, and governing bodies and ensuring compliance with all codes, laws, and regulations.
Identifying contractors, consultants, architects, engineers, and vendors in conjunction with the Kenyon contracting policies and leading contract negotiations.
Serving as the liaison with architects, contractors, consultants, etc. and providing them with direction regarding project objectives, schedules, and budget.
Managing third party construction cost estimators (to the extent that they are used).
Coordinating contractor activities with campus constituencies to minimize disruption to academic and other College programs and activities.
Making regular inspections of construction projects and attending regular and special project meetings to assess progress against project goals and schedules, and ensuring work is completed to contract specifications.
In the case of projects overseen personally by the Director, they will assume the responsibilities listed above for their projects.

About Kenyon College
Kenyon College is one of the nation's finest liberal arts colleges, a small school where academic excellence goes hand in hand with a strong sense of community. Founded in 1824, Kenyon is the oldest private college in Ohio. The small college originally educated all-male clergymen for frontier America, but its literary prominence dates to 1939, when the Kenyon Review was founded. Since then, Kenyon has grown in size— welcoming women in 1969—and has expanded intellectually, earning national recognition in many fields.

Location
Gambier, OH.
Qualifications
Minimum Qualifications
B.S. in Engineering, Architecture, or Project or Construction Management with eight (8) years of related work experience OR any combination of education or related training with ten (10) years of direct work experience in construction administration, project planning, or project management.
Must have excellent computer skills with a working knowledge of software related to design and construction industry.
Strong leadership and supervision skills.
Must have a valid Driver's License and complete Kenyon College Driver Training.
Employment is contingent upon satisfactory results of a due diligence background check.
Preferred Qualifications
Current professional licensure as engineer or architect.
Current certification in project management.
Completion of construction management track of the APPA Institute for Facilities Management.
Typical work hours are 7:30 a.m. – 4:30 p.m. Monday through Friday. Flexible scheduling, long work days and work during non-traditional hours may be required.
Kenyon College is an equal opportunity employer and applications from members of all underrepresented groups are encouraged. It is the College's policy to evaluate qualified applicants
without regard to race, color, national origin, ancestry, sex, gender, gender identity, gender expression, sexual orientation, physical and/or mental disability, age, religion, medical condition, veteran status, marital status or any other characteristic protected by institutional policy or state, local or federal law.