The University of Central Florida has retained Helbling to conduct an executive search to secure an Assistant Vice President of Planning, Design & Construction.

Position Summary
Facilities Planning and Construction (FPC) strives to ensure that the quality of UCF's physical environment supports the University's standards in teaching, research, service, and campus life; to excel in project delivery through leadership, integrity, passion, and excellent customer service; to create an exciting and safe campus environment for UCF students, faculty, and staff in which to learn, teach, work, and play; to minimize the life-cycle cost and environmental impact of UCF facilities, while maximizing sustainable and maintainable standards; and to maintain a departmental culture of respect and dignity where individuals are encouraged to lead, learn, and grow.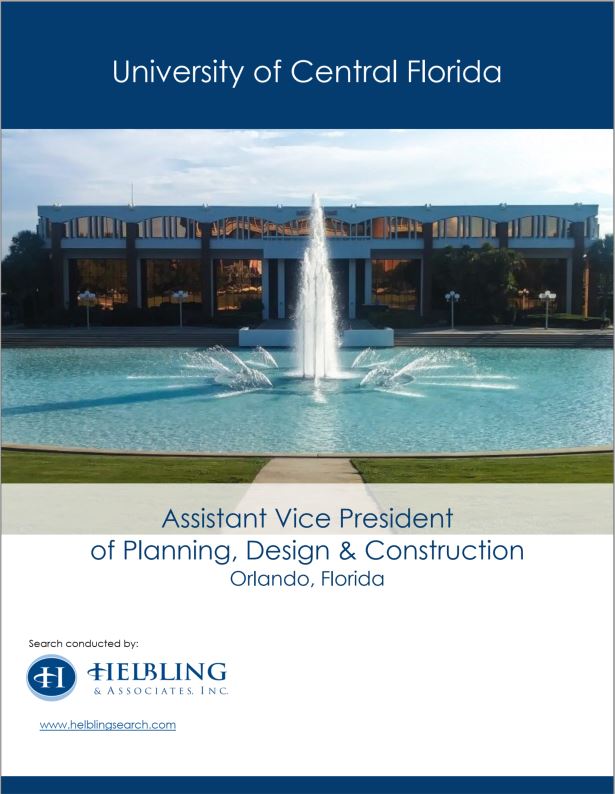 The Assistant Vice President of Planning, Design & Construction ("AVP") provides direction and oversight of the Facilities Planning and Construction Department. The AVP is responsible for managing the department's budget, staff, project workload, and quality of service to campus clients. He or she oversees the University Architect who is responsible for long-term capital planning, space planning, and contract management; and also oversees the Managers of Campus and Support Projects who ensure that major and minor projects are completed expeditiously, meet their programmatic requirements, meet UCF standards, have a high level of customer service, and are completed within available project budgets.
For more details about this opportunity, please view the position profile by clicking on the cover image to the left.

Essential Job Functions
Planning: Responsible for long-term planning activities that are under the direct supervision of the University Architect. These include the Campus Master Plan, Campus Development Agreement, Educational Plant Survey, Space Administration, Building Program development, annual Capital Improvement Plans, etc.
Projects: Responsible for the design and construction project execution for both capital and minor projects under the direct supervision of the Director, Facilities Planning and Construction. Review and approve financial documents (invoices, payment applications, change orders, etc.)
Contracts: Oversee the implementation of design and construction contracts. Ensure contract renewal and advertisements are taking place in a timely manner. Ensure that contracts are updated to protect university interests.
Additional Job Functions
Solicitation: Responsible for the oversight of solicitation for design and construction teams for capital projects (under the University Architect) and continuing service vendors (under the Director, Facilities Planning and Construction). Ensure timely advertisements and renewals so that design and construction are expedited.
Reporting: Regularly report department status and progress of significant planning, design, and construction activities to the Vice President and university leadership. Present data to university leadership and the Board of Trustees when requested.
Metrics: Develop, track, and present department metrics to division and university leadership. Develop software reporting so that these metrics can be easily tracked with minimal or no manual effort. Take measures necessary to meet or exceed metric targets.
Staffing: Evaluate department staffing needs, for both permanent and outsourced positions. Hire positions as authorized and needed to ensure the proper delivery of FP&C services. Provide the necessary coaching and training for employee success.
Budget: Formulate and administer the annual operating budget for the Facilities Planning and Construction department.
Responsibilities
Policy Making and/or Interpretation: Follows university and State University System administrative rules and policy through the office of the Vice President regarding planning and construction of university projects. Supports the development of fixed capital and outlay requests. Provides leadership and direction in policy development related to design, construction, and master plan, both at the department and university level.
Program Direction and Development: Directs the Facilities Planning and Construction department to ensure established goals and objectives are communicated and attained.
Supervision Received: Under general supervision, reports to the Vice President, Facilities and Business Services. Works from mutually planned objectives and is evaluated according to achievement of objectives. Reports on the status of project and/or sensitive matters dealing with planning, design, and construction.
Supervision Exercised: Responsible for the departmental unit of Facilities Planning and Construction. Supervises the following staff: University Architect, Manager of Campus Projects, and Manager of Support Projects
Monetary Responsibility: This position negotiates contracts, recommends change orders, approves payments, makes construction commitments, etc. The consequence of an error is vast since mistakes in construction are costly and time consuming. Project budgets range from thousands to millions.
Level of Public Contact: Frequently visits with architects, contractors, and vendors doing business or wishing to do business with the university. Regularly communicates with Board of Trustees, presidents, vice presidents, deans, directors, faculty, staff, and students regarding facilities in design and under construction, project budgets, and issue resolution. Periodically has contact with the State Regulatory and Compliance agencies, county and state government officials, and the media.
Responsibility for Confidential Data: May deal with university sensitive proprietary data and personnel records.
Other Characteristics of Position: Interprets State and State University System procedure in the development of university policies and standards related to construction. Individual must deal with all administrative levels within the university. An ability to deal honestly, fairly, and openly is essential. This position may need to work nights and weekends and may be required to work during emergencies on campus.
About the University of Central Florida
The University of Central Florida (UCF), part of the State University System of Florida, is a public, R1 research university with its 1,415-acre main campus located northeast of the city of Orlando. UCF also has nine smaller regional campuses throughout central Florida, including the Health Sciences Campus at Lake Nona Medical City, the Rosen College of Hospitality Management in south Orlando and the UCF Center for Emerging Media in downtown Orlando. With over 70,000 students as of the Fall 2021 semester, it currently has the second-largest student body of any public university in the United States.

UCF is an academic, partnership and research leader in numerous fields, such as optics and lasers, modeling and simulation, engineering and computer science, business, public administration, education, hospitality management, healthcare and video game design. The university offers more than 230 degrees through 13 colleges.

Location
Orlando, FL.
Qualifications
Minimum Qualifications
•
Bachelor's or Master's degree.
•
10+ years of relevant experience with at least 5+ years of leadership experience.

Preferred Qualifications
•
PE license, Architect license, GC license.
•
7 years of leadership experience within the industry.
•
Experience with industry related project management software (such as e-Builder).
The University of Central Florida is an equal opportunity/affirmative action employer. All qualified applicants will receive consideration for employment without regard to sex, gender identity, sexual orientation, race, color, religion, national origin, disability, protected Veteran status, age, or any other characteristic protected by law. UCF's Equal Opportunity Statement can be viewed at:
http://www.oie.ucf.edu/documents/PresidentsStatement.pdf
.