Western Michigan University has retained Helbling to conduct an executive search to secure an Associate Vice President for Facilities.

Position Summary
Reporting to the Vice President for Business and Finance, the Associate Vice President for Facilities is an integral member of the Business and Finance leadership team and is responsible for the planning, design, construction, engineering, maintenance, and operation of campus buildings, grounds, utility systems and supporting infrastructure. The Associate Vice President for Facilities oversees an office that provides master planning, design, construction management support, sustainability expertise, co-generation power plant, innovative partnering expertise, and other facility operation expertise to Western Michican University (WMU). This position is instrumental in leading the planning and development of new facilities and future development of campus environments while maintaining a strong link between those that design and build physical assets and those that operate and maintain the assets.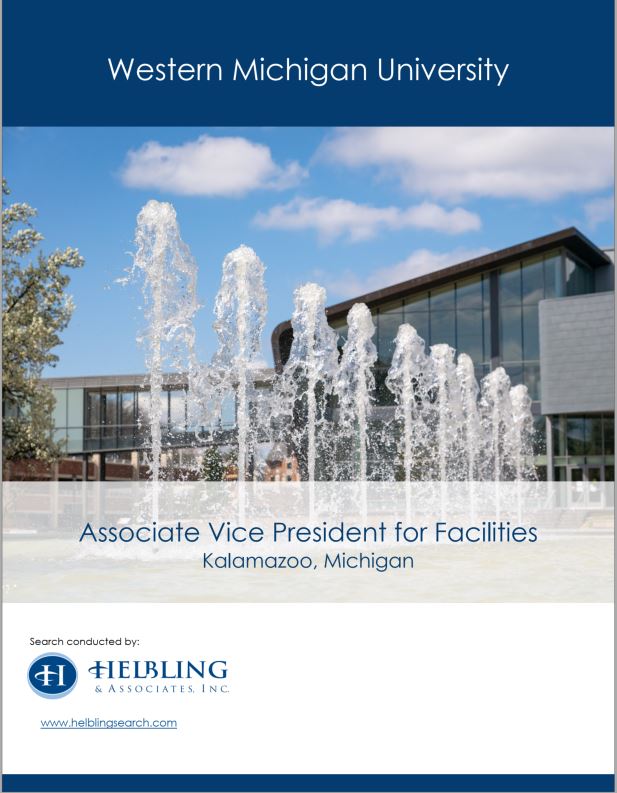 For more details about this opportunity, please view the position profile by clicking on the cover image to the right.

Duties and Responsibilities
Specific duties may include but are not limited to the following:
Seek out, evaluate, and implement appropriate new approaches to facilities
Maintain all buildings, grounds, and facilities and continue to proactively manage deferred maintenance
Continue to build and maintain redundancy in critical systems such as energy management and large campus distribution systems for steam, chilled water, and electric
Manage all functional areas of responsibility for Facilities
Maintain an inclusive and collaborative environment within Facilities, across campus, and with external constituencies
Work to continuously improve the service levels to optimize facilities management support and identify efficiencies across campus
Responsible for overseeing the proper budget management and accountability of funds available to Facilities
Developing and directing campus facilities planning and major construction programs; working with key WMU stakeholders to meet space planning needs
Work with various state and federal governmental agencies to coordinate project funding and related reporting/record-keeping
Planning, assessing, reporting, and leading team efforts
Ensuring that the provisions of the AFSCME and MSEA contract are followed
About WMU
Western Michigan University (WMU) is a national research university enrolling over 19,000 students from across the United States and 92 other countries. They have 15,309 students who are undergraduates, with the balance being graduate students, and 27% of all students are from out of state. Founded in 1903, it is a learner-centered, discovery-driven, and globally engaged public University that stands out among America's nearly 4,000 higher education institutions. The University offers 142 bachelor's, 75 master's, and 36 doctoral programs. These programs are offered through seven degree-granting colleges: arts and sciences, aviation, education, human development, engineering, applied sciences, fine arts, Haworth College of Business, and health and human services.
Western Michigan University has approximately 8M square feet of facilities and sits on 1200 acres.
Required Qualifications
Significant years of experience demonstrating progressive responsibilities in facilities management in a large, complex organization (200 or more employees)
A bachelor's degree in engineering, management, facilities management, or a related field from an accredited institution
A commitment to diversity and inclusion and a track record of creating a welcoming, professional environment
A minimum of five years of administrative experience at the Director level or above in a large, complex organization
Strong project management skills and the ability to manage multiple, complex projects
Extensive knowledge of capital planning, financial planning, land-use planning, and master planning
Demonstrated commitment to resource stewardship from the perspective of both economics and sustainability
Excellent interpersonal and team-building abilities, outstanding oral and written communication skills
A customer-service orientation
Problem-solving skills to reach efficient and effective solutions in a collaborative manner
Demonstratable ability to nurture relationships in an inclusive and collaborative manner with a wide range of internal and external constituencies
The ability to represent and advocate for WMU needs to the Board of Trustees, other policy-making agencies, community groups, and other wide-ranging audience
Preferred Qualifications
A master's degree in engineering, architecture, construction management, or business from an accredited institution
Professional certification as Professional Engineer, Licensed Architect, Certified Educational Facilities Professional, or LEED certification
At least five years' experience in a state organization, college, or university setting
Extensive experience managing an energy facility and large campus distribution systems for steam, chilled water, and electric
Experience working with unions and labor agreements
Demonstratable engagement with nationally recognized professional organizations
Western Michigan University, an affirmative action/equal opportunity employer, complies with applicable federal and state laws and University policies prohibiting discrimination and harassment. Western Michigan University prohibits discrimination or harassment that violates the law or that limits opportunities of admission, employment or education based on the protected classes of race, color, religion, national origin, sex, pregnancy, sexual orientation, gender identity, age, protected disability, protected veteran status, genetic information, height, weight, or marital status.