Stony Brook University has retained Helbling to conduct an executive search to secure an Assistant Vice President for Planning, Design & Construction / Director of Construction.
Overview
Stony Brook University (SBU) seeks an exceptional leader with executive-level capital construction experience to join the senior management team as Assistant Vice President for Planning, Design & Construction / Director of Construction.
Located in Stony Brook, New York, Stony Brook University, widely regarded as a State University of New York (SUNY) flagship, was established in 1957 as a college for the preparation of secondary school teachers of mathematics and science. The first campus was located in Oyster Bay, Long Island on the grounds of a former Gold Coast estate. In 1962, a new campus was built near the historic village of Stony Brook on land donated by local philanthropist Ward Melville.
Since then, Stony Brook University has evolved into one of the nation's important centers of learning and scholarship – carrying out the mandate given by the State Board of Regents in 1960 to become a university that would "stand with the finest in the country." SBU is a member of the elite Association of American Universities representing leading research universities and was recently ranked third in the nation for best 'total-package college' by Ladders for its low cost and great track record for graduate job prospects and earnings.
Located 60 miles east of Manhattan and 60 miles west of Montauk Point, Stony Brook University is one of four research-intensive campuses within the State University of New York (SUNY) system. Situated on 1,454 wooded acres, the campus encompasses 12 schools and colleges; a Research and Development Park; world-class athletics facilities, including a 10,000-seat stadium and a 4,160-seat arena; and Stony Brook Medicine, Long Island's premier academic medical center. Also part of the University is a teaching and research campus in Southampton, New York, which is home to graduate arts and medical professional degree programs and the Marine Sciences Center. Additionally, SBU is part of the management team of the prestigious Brookhaven National Laboratory.
Stony Brook University includes:
37,000 students, faculty and staff
178 buildings
950 laboratories
2,500 restrooms
25 miles of underground high voltage cable
166 transformers and 1,000 utility manholes
16 miles of roadways
Over 10,000 student beds on campus
Facilities & Services
The Facilities & Services Department provides the essential services for building, operating, and maintaining Stony Brook University on its three campuses: Main Campus, Stony Brook Southampton, and the Research and Development (R&D) Park.
Campus Planning, Design & Construction (CPDC) is one of three divisions under the Facilities & Services Department. The other two are Environmental Health & Safety (EH&S) and Campus Operations & Maintenance (COM).
As a state university, Stony Brook has access to capital funding from numerous sources to support its facilities needs. Projects currently under construction on campus include a 240,000 GSF medical research and teaching facilities and patient tower building scheduled to opening this winter, a 62,000 GSF high-tech business incubator building entering final fit-out, an indoor sports practice facility opening this winter, a complete renovation of the student union opening Spring 2020, and the first of several dormitory projects. Currently in design with funding plans underway are two additional residence halls including their first public / private partnership structured project, the fourth building in the R&D Park to house cutting edge medical and engineering research, a new engineering academic building, and the complete renovation of the large chemistry teaching and research facility. In addition to new construction, the campus manages about $50M a year in capital maintenance projects.
Interesting Facts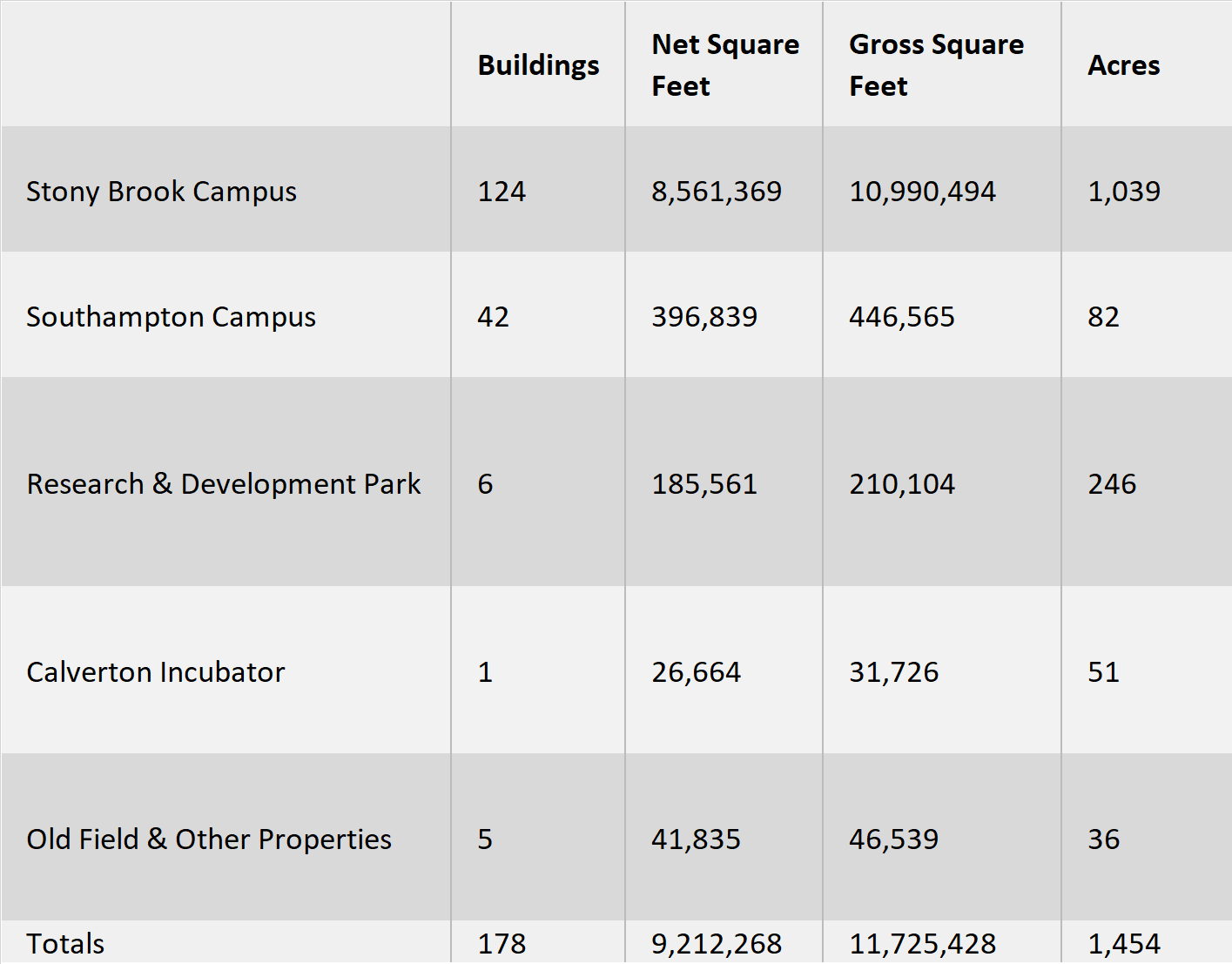 Position Summary
Reporting to and under the general supervision of the Vice President for Facilities & Services, the Assistant Vice President for Planning, Design & Construction / Director of Construction provides leadership for the operation and management of all campus planning, design, and construction activities. Activities include, but are not limited to, professional guidance and services to the University for campus planning, capital budgeting, architecture, design, engineering, and construction management.
Responsibilities
Assistant Vice President for Planning, Design & Construction – Oversight of Campus Planning, Design & Construction (CPDC) Department
Oversight of CPDC including all planning, design, construction, and renovation activity occurring on campus and all off-site properties. This includes oversight of the identification, design, construction, and inspection of new projects, physical alterations to existing facilities, and site work for the University.
Specific required actions include:
Oversee campus design and construction activities, including building renovation projects and major construction projects.
Oversee project reports, which reflect accurate time, labor, and materials expenses to ensure projects are completed within funding constraints and allowable performance periods.
Oversee the staff's reporting on labor costs of construction projects to clients, which requires extensive knowledge of work procedures, practices, and capabilities of available workforces – both in-house and by contract.
Oversee outside developers, contractors, architects, and consultants regarding construction projects on state ground leases.
Coordinate all Stony Brook construction activity with the State University Construction Fund (SUCF), the New York State Dormitory Authority, other state, local, and external agencies, contractors, vendors, department heads, as well as with regulatory agencies such as the Department of Environmental Conservation (DEC).
Ensure compliance with all building code regulations, including the coordination of all building code compliance and regulatory reporting to the Environmental Protection Agency, Department of Environmental Conservation, Department of Health, Department of Public Works, SUNY System Administration, State University Construction Fund, and other government agencies and regulatory authorities.
Serve as a partner and collaborator with the ability to build consensus and cooperative working relationships amongst the facilities teams while ensuring a focus on the customer.
Analyze complex data and present reports that recommend alternative courses of action to policy- making groups.
Oversee the preparation of plans and specifications for work to be performed by design consultants, contractors, or in-house forces.
Review project estimates to determine fairness and accuracy of pricing based on historical data and current labor rates.
Represent the University on selection committees for design consultants and construction managers.
Oversee CPDC's annual budget and all personnel requirements.
Manage staff including recruitment, supervision, scheduling, development, evaluation, and accountability.
Meet regularly with staff to review activities, address all matters that may impact efficiency, and propose and implement changes as necessary to ensure staff meets departmental and individual goals.
Continuously monitor and measure the effectiveness of CPDC through benchmarking, customer surveys, etc.
Manage CPDC's master schedule to balance and prioritize workload and manage executive expectations.
Coordinate between the University and represented Unions.
Coordinate between the University and Nassau Suffolk Building Trades.
Director of Construction - Oversight of State University Construction Fund (SUCF), Dormitory Authority of the State of New York (DASNY), and Other Fund-Source Capital Construction
Specific required actions include:
Coordinate with State University Construction Fund (SUCF) for all projects administered by SUCF, DASNY, and other state agencies.
Advise SUCF personnel on construction progress of University projects.
Recommend project acceptance or rejection to University and SUCF leadership.
Coordinate all campus construction activities with Environmental Health and Safety, Campus Operations, Suffolk County Department of Waste Water Management, New York State Department of Environmental Conservation, and other permitting and regulatory agencies.
Lead the development and execution of multi-year campus capital construction plans, including academic, research, housing and support services and clinical spaces.
Oversee master project scheduling and construction through contract administrators and project managers.
Oversee material and labor estimates and other resources needed for all new construction and rehabilitation projects.
Develop and track reports involving all areas of design and construction.
Develop and track reports and studies regarding long-range facilities programming and planning as requested by University Administration.
Forecast construction trends, cost-saving opportunities, and sustainable initiatives.
Coordinate project turnovers with Campus Operations & Maintenance; Environment, Health & Safety; University Police Department; and the tenants.
Helpful Links