The University of Illinois Urbana-Champaign has retained Helbling to conduct and executive search to secure an Associate Vice Chancellor and Executive Director of Facilities and Services.

Position Summary
The Associate Vice Chancellor and Executive Director of Facilities and Services has direct operational and administrative responsibility for supporting the academic mission of the campus through securing and maintaining the viability and integrity of the physical campus. Reporting to the Vice Chancellor for Administration and Operations, the Associate Vice Chancellor and Executive Director has overall\ responsibility for the unit's budget, human resource management, and all other aspects of its operation. Six reporting divisions include Capital Programs; Engineering and Construction Services; Operations, Maintenance, and Alterations; Safety and Compliance; Shared Administrative Services; and Utilities and Energy Services. Facilities and Services, including utility enterprise and conservation activities, is the largest administrative unit on campus with a budget of $169 million, and a staff of approximately 1,100. Facilities and Services (F&S) supports a physical plant of more than 13 million net assignable square feet in 506 university district buildings covering 3.6 square miles.

Key Responsibilities
Prioritizing the allocation of available funding to align with critical campus needs:
The Associate Vice Chancellor/Executive Director (AVC/ED) will prioritize and protect the essential budget areas of F&S while aligning functions with campus priorities and programmatic needs. A continued emphasis on greater interdivisional collaboration concerning how information, resources, and services can be shaped will better support the needs and efforts of F&S. This emphasis includes holding the organization to the highest level of accountability in resource allocation, cost efficiencies, process improvements, and meeting the expectations of the entire campus community—students, scholars, faculty, and staff.
Renewing and modernizing campus facilities:
The AVC/ED oversees the capital projects delivery process for new buildings, major renovations, and infrastructure improvements while preserving the architectural heritage of the campus. These efforts require collaborative planning and regular assessment with campus administration, unit stakeholders, and community leaders. The timely and on-budget delivery of capital projects is critical to the university's mission and continued academic and administrative unit success. F&S staff follow state procurement rules and university policies for negotiating professional services, bidding construction projects, and administering construction contracts. F&S project management reduces the potential risk of noncompliance and ensures adherence to campus design guidelines and facility standards.
Acting as a collegial partner across campus and the University of Illinois System:
Given the interdisciplinary and interconnected nature of the University of Illinois System and Urbana, Chicago, and Springfield campuses, it is critical that the AVC/ED of F&S serve as a facilities management thought leader. Developing partnerships with university leadership and the deans\and the directors of colleges, departments, institutes, and administrative units will be essential to striving toward a transformative and rewarding future. The AVC/ED should be aware of university priorities, initiatives, challenges and anticipate the future trends in emerging areas. Service on campuswide committees, such as the Finance and Operations, Chancellor's Capital Review Committee, Chancellor's Design Advisory,
Public Safety Advisory, COVID-19 Executive Steering Committee, and Sustainability Council, is vital to these efforts.
Maximizing space utilization:
Over the past decade, balancing campus enrollment growth with sustainability goals of no net increase in space has required an innovative approach to analyzing campus density and greater square footage efficiency opportunities. The AVC/ED will look for new ways to expand in-depth planning and procedures that have included renovating existing space, improving space utilization, and increasing the ability to share space and resources between units and across campus. The modest change to the campus footprint in recent years, despite more students, demonstrates the value of these actions. In the F&S Space Management Plan, the need for transformative and impactful spaces that support modern research and instructional goals has also been adequately balanced, incorporating green building design standards and achieving aggressive energy conservation targets.
Protecting the safety and health of the campus community:
Regulatory compliance programs are critical to campus for occupational safety and environmental stewardship. The AVC/ED will ensure that F&S continues to pursue innovative safety solutions, assist with identifying resources, and provide support for increased organizational safety program participation. The unit must address outstanding Illinois Occupational Safety and Health Administration (IL OSHA) citations, oversee high-risk programs, and respond to IL OSHA investigations. Programs that are deemed critical require permits, frequent reporting, and self-disclosure of violations. The university's Clean Air Act Permit Program Title V permit covers Abbott Power Plant's operations in addition to all other air emission units on campus.
Acting as the caretaker for campus beautification and landscape management:
UIUC recognizes the importance of the campus landscape on the wellbeing of the campus community. Trees and natural habitat areas for diverse species sequester carbon from the atmosphere and have been shown to positively affect human behavior. F&S prioritizes creating and restoring outdoor spaces in an inviting, sustainable, and maintainable natural manner. The AVC/ED will help lead efforts to finalize a new Campus Landscape Master Plan. The master plan will help set a
standard for future improvements in landscape architecture, update resilient strategies, and guide how sustainability and aesthetics will be incorporated into campus landscape projects.
Increasing active transportation and improving the transportation network:
The university continues expediting the transition of campus roads to complete streets whenever possible. This long-term planning emphasis better balances transportation modes and helps improve mobility and convenience for cyclists and pedestrians. The AVC/ED will deliver transportation demand management planning that prioritizes ongoing support for developing and maintaining on-street bicycle lanes, public transportation connectivity, and main pedestrian pathways. UIUC is incredibly proud to be recognized as a Bicycle Friendly University by the League of American Bicyclists, achieving silver-level status. Campus master planning encourages sustainable development that is located and designed to be compact and contiguous to existing development, has a limited environmental impact, and improves the quality of life on campus.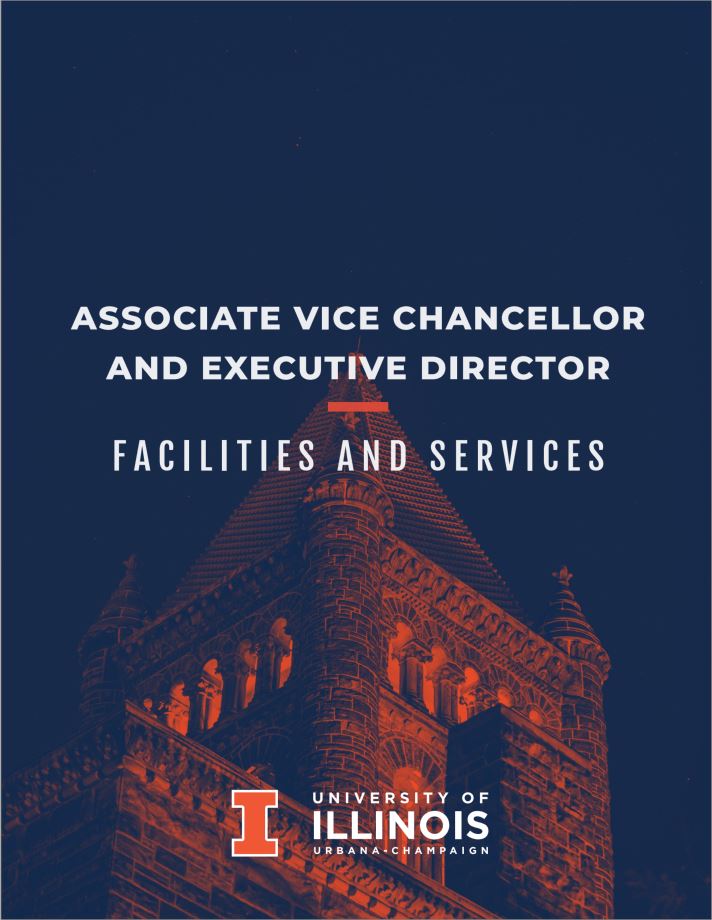 Enhancing work order communications:
F&S launched an enhanced step-by-step notification process for service requests that will provide in-progress updates about regular facilities work. In surveys, at forums and facilities liaison events, and through online forms, our customers have consistently requested more opportunities for better scheduling communications and additional ways to offer immediate feedback. The AVC/ED will continue to help advance two-way communication and engagement throughout maintenance operations.

For more details about this opportunity, including F&S initiatives and statistics, please view the position brochure by clicking on the cover image to the right.
Qualifications
Bachelor's degree, with a master's degree strongly preferred, preferably in engineering, architecture, landscape architecture, planning, or business administration.
A minimum of 10 years of experience in large, diversified, and complex college, university, or comparable organizations is required, with increasing responsibilities in the management of facilities and services; substantial college or university experience is preferred.
Also required: a record of excellent communication, principled leadership, and personal integrity, as well as a history of advocacy for diversity and inclusion in the workplace.
Position and Application Details
This is a full-time, twelve-month academic professional position. Salary is open and is dependent on qualifications and experience. The position is available as soon as possible after the closing date. To ensure full consideration, application materials (including cover letter, resume, and contact information for at least three professional references) should be received by March 21, 2022. Interviews may take place before the closing date, but a final decision will not be made until after March 21, 2022.
The University of Illinois is an Equal Opportunity, Affirmative Action employer that recruits and hires qualified candidates without regard to race, color, religion, sex, sexual orientation, gender identity, age, national origin, disability or veteran status.
The University of Illinois conducts criminal background checks on all job candidates upon acceptance of a contingent offer. Convictions are not a bar to employment. The University of Illinois System requires candidates selected for hire to disclose any documented finding of sexual misconduct or sexual harassment and to authorize inquiries to current and former employers regarding findings of sexual misconduct or sexual harassment.
University of Illinois faculty, staff and students are required to be fully vaccinated against COVID-19. If you are not able to receive the vaccine for medical or religious reasons, you may seek approval for an exemption in accordance with applicable University processes.