Trends in the healthcare sector, such as the growth of outpatient facilities and consistently advancing technologies means that leaders have more and increasing complex facilities to manage, while also dealing with limited budgets and a small talent pool of facilities professionals. Health Facilities Management (HFM), in conjunction with American Society for Healthcare Engineering (ASHE) and Association for the Healthcare Environment (AHE), covered these issues and more in its recently released Salary Survey. While results of the survey showed positive changes in compensation (including incentives), the benefits of certification, and various recruitment initiatives being implemented, they also showed that succession planning was severely lacking across the sector.
Compensation packages are improving, but slowly
When we reported on HFM's 2015 survey, executives within facilities management and operations, as well as construction, had not seen a major increase in their compensation despite their responsibilities shifting and growing. Fortunately, the latest survey show more favorable news. Salaries for facilities management operations and engineering roles have increased by more than 5% since 2015, increasing the average salary to $104,092. Construction managers saw an even greater increase of 9.4% to an average salary of $129,206.
Jim Lord is Northeast Managing Director with Helbling & Associates, a retained executive search firm in Pittsburgh that specializes in facilities and construction roles. He says, "Overall, I've seen a gradual increase in compensation for healthcare facilities and construction roles. While it has been slight, the gap in compensation between institutions and private companies seems to be narrowing, which is critical for healthcare organizations to be able to attract and retain good talent."
Performance metrics and certifications are impacting compensation as well. About 54% of survey participants reported that their compensation is linked to several performance metrics with meeting budgetary goals as the most important. Lord says, "Having metrics to strive for is beneficial for both the organizations and for facilities leaders, which motivates teams and enhances employee engagement. The most common metric is budget – the ability to stay within budget on both projects and operational expenses. There also can be metrics tied to the accomplishment of certain tasks or initiatives over a given timeframe (i.e., reduce utility usage by 10% over the next 3 years). Typically, I have seen these tied into annual increases versus bonuses in the institutional sector, although bonuses are not unheard of."
While Lord says that he has not seen an increase in certifications being desired from clients, they certainly show their impact on compensation. HFM found, on average, Certified Healthcare Facility Manager (CHFM) and Certified Healthcare Environmental Services Professional (CHESP) can make a difference of at least $20,000 in annual salary, which equates to an average increase of more than 30%.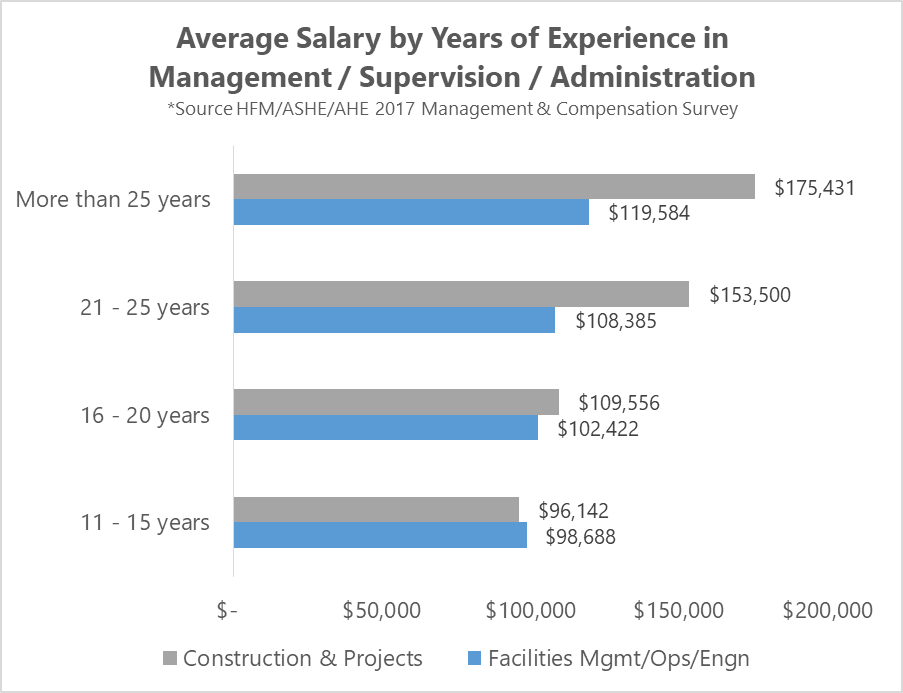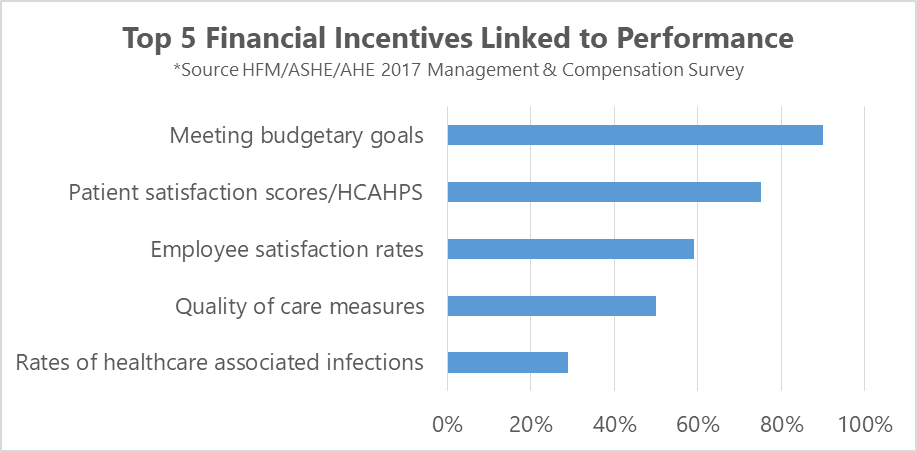 Engagement, retention, and succession planning are crucial
"As recruitment has certainly increased in the sector, and many organizations have discussed succession planning, I've seen very little actual movement in this concept," says Lord. "This is surprising because there is a shortage of talent at all levels in healthcare facilities management. At the entry level, it's difficult to find and attract people to the healthcare field, and then retain them long-term. At the mid-level, you have a short supply of professionals but they are essential for implementing new concepts and strategies, and advancing technologies. At the senior level, you have those who have valuable experience but may be on their way to retirement in the coming years."
In its 2015 study, HFM found that 56% of participants either had a formal succession plan in place or were developing one. In contrast, that number was only 35% in 2017 (only 12% actually have a plan in place). That said, many organizations do have initiatives for recruitment. Some institutions are partnering with local universities and other academic institutions, and creating internship programs. Others are developing internal talent through manager-in-training programs so that strong team members are shown clear paths of advancement.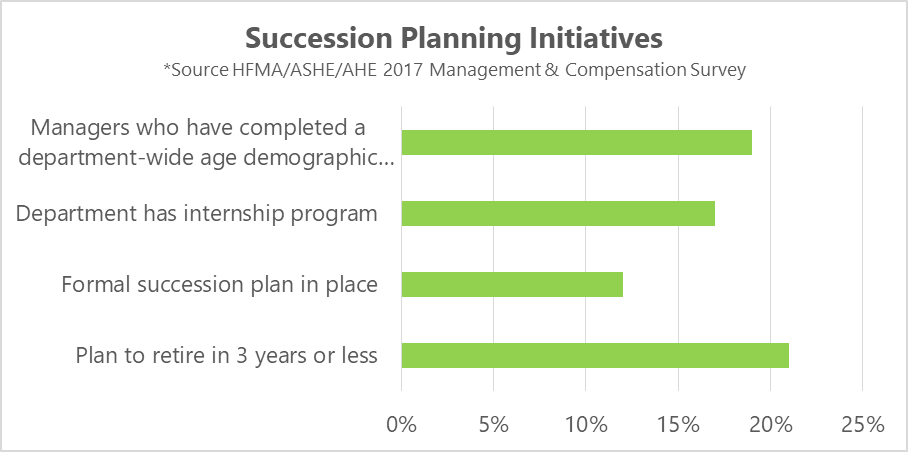 As executive search consultants specializing in this sector, we know about the shortage of facilities and construction talent within healthcare firsthand. Institutions are undergoing major transitions as they embark on utilizing new technologies and advancements in medicine, and initiating large capital construction programs to either expand their acute care hospitals or build satellite facilities, or new facilities that can promote research and/or services offered. There are many moving pieces, and this period of change will continue for many years. This type of environment commands facilities and construction leaders who have the depth of experience necessary to align their activities with an organization's short- and long-term strategies.
Knowing this sector as well as we do, we are confident that HFM's next survey will show even more progression as it relates to compensation, recruitment, and succession planning. Working closely with prominent institutions, we know the ambitious goals they want to achieve and that they realize all of them depend upon their internal talent.